Better Understand Strategy and Drive Improved Business Decision Making
Business simulations are a proven and effective tool for driving the application of newly learned concepts.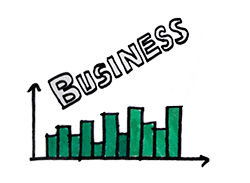 In just a few clicks, they provide a risk-free, engaging environment where innovation and creativity can be applied in real-world contexts to strengthen skills and the effectiveness of learning.
The Business Simulation Experience
Advantexe's business acumen and management simulations are interactive learning tools that challenge participants and help them to learn about the systemic nature of business. Used as the centerpiece of Advantexe's Business Acumen and Strategic Business Selling learning journeys, our simulations are sophisticated computer-based activities in which teams of participants take control of a global company and play it for several operating periods. Working in a complex and competitive simulated marketplace, teams compete against each other for market share, brand awareness, and customers. They are responsible for total simulations management by overseeing total business operations including setting policy, sales, marketing,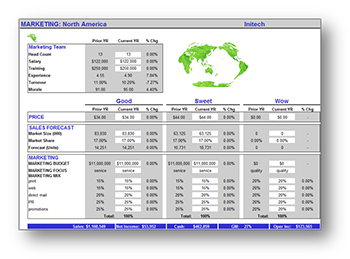 manufacturing, R & D and supply chain. They analyze business performance using financial reports, key financial ratios, and other critical business metrics of success. Ultimately, the objective of the simulation is to create value for their shareholders, customers, and employees.
Application:
So much more than a simple "business game," Advantexe's simulations require participants to contemplate business management in a holistic and systemic way, where knowledge in the areas of strategy, sales, finance, marketing, operations, and leadership is synthesized and integrated into the exercise. Participants make decisions and see the results of those decisions immediately in a risk-free learning environment.
Our simulations develop top skills in many areas, including:
Executing business strategy
Understanding customer segmentation and market demand
Evaluating competition
Analyzing customer needs and trends
Assessing internal strengths and weaknesses
Determining the value of R&D investment and innovation
Appreciating the complexities of manufacturing and supply change management
Recognizing the impact operational decisions have on financial performance
Industry Specific
Advantexe simulations reveal that certain basic frameworks of business strategy and execution can be applied to any business ecosystem. We customize for clients across all industries including, technology, financial services, professional services, specialty chemicals, healthcare, produce distribution... just to name a few.
Custom Business Simulation Development:
Advantexe's simulations can be customized to your specific requirements and can include your business metrics. Simulations can be played online and we can even develop leader boards, a simulation game, or contest for more of a gamification type of learning event.
Contact Us to Learn More and To Set Up a Demo
Contact us to see a demonstration and discuss your talent development needs.