Identify Skill Gaps with Advantexe Assessment Simulations
Accurate skill and competency assessment is a critical component of any effective talent development strategy. At Advantexe we help our clients provide an objective measure of a candidate's abilities by utilizing a sophisticated, proven business simulation assessments. Whether you are assessing first-time managers, high-potential managers, or even senior executives, an assessment simulation is an effective tool for measuring individual, functional, and organizational skills and competencies.
The Assessment Experience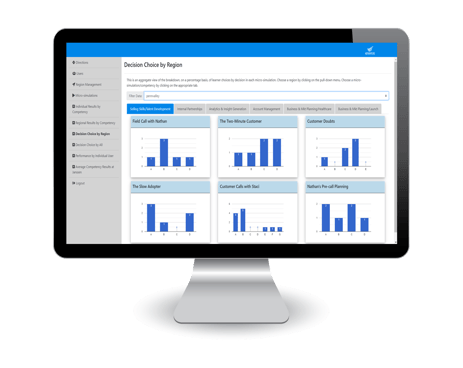 Unlike traditional "flat" assessment tests, Advantexe simulations expose participants to business scenarios in the same way that pilots experience the challenges of a flight simulation.
Users take on the role of a simulation character and navigate through a series of real-life business challenges and opportunities. The simulation story unfolds based upon the reactions and interactions with other simulated characters. These scenarios are designed to test how participants will react to key business situations and to identify areas in which they need further support and development.
How does it work?
A typical assessment is 60-75 minutes long and covers 20-30 scenarios. Each scenario has multiple ties to your competency matrix, and the results are provided in a series of online analytic reports. Reports show specific skills in which participants are strong, while also identifying areas for additional focus. The individual results can be aggregated by cohorts and groups to see trends and identify skill gaps at various organizational levels.
Each simulation is customized to your needs. We have deep experience building simulations in the areas of leadership, finance, marketing, strategy, sales, and many others.
Deployment
Advantexe assessments can be deployed through a Learning Management System (LMS), as part of an "Assessment Lab/Center", or from a participant's desktop computer.
Read More
Business Simulations Used as an Assessment Tool
Contact Us to Learn More