Overview: The more complex the business world becomes, the more opportunities there are for business conflict. Having the skills and tools to resolve these conflicts can mean the

difference between success and failure.
The Resolving Business Conflict simulation is an immersive learning program that categorizes business conflict into four buckets:
Business Asset Conflicts

Business Goal Conflicts

Business Culture Conflicts

Business Accomplishment Conflicts
Rather than watching a video, or reading text on a screen, this interactive simulation-centric learning experience combines short learning lessons with hands-on scenario-based simulations that allow participants to build and practice new skills in a risk-free environment.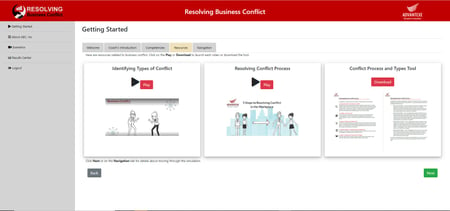 About the Simulation
After reviewing the short microlessons that introduce users to the different types of conflict and easy-to-use framework to resolve conflict, learners have the opportunity to practice in a series of short simulations.
In the simulation, learners are challenged to resolve each of the common conflicts through a series of scenarios. Learners interact with simulated colleagues and team members and select the most appropriate response to each situation. At the completion of the simulation, feedback and scores are provided based on the effective use of the conflict model. The simulation also contains a unique admin center that tracks the usage and scores of the learners.

Learning Outcomes:
The simulation allows learners to practice the two critical competencies required to manage and resolve conflicts within the business setting effectively:
Understanding and implementing a five-step process for resolving business conflict

Applying the core skills of listening, questioning, and collaborating
Time: The simulation is composed of four scenarios, one for each type of business conflict. It takes approximately 60-90 minutes to complete.
Best Uses: The simulation can be delivered online for individuals, or as part of a live or virtual training event. Train-the-trainer options are available.
Audience: The simulation is designed for professionals at all levels whose challenge is resolving workplace conflict.