Culture does not change because we desire to change it.
Change in business is inevitable. Unfortunately, 75% of companies don't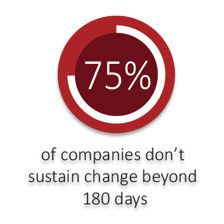 sustain change beyond 180 days (Source: TrainingIndustry.com) Today, business leaders operating in a global environment must have the skills and tools needed to successfully execute their strategy.
How Advantexe Can Help
Advantexe has developed a portfolio of business leadership talent development solutions that can be delivered in person or virtually to help your employees develop an understanding of how to move change-driven issues to positive outcomes.
Our Change Leadership programs are fully customizable with respect to both content and delivery. Our learning journeys typically include:
Assessment

Pre-work
Live or virtual learning sessions
Digital business simulation
Application tools
Measurement and impact studies
Online reinforcement role plays
Change Management Learning Topics:
Working with you, we draw from our extensive curriculum library to create a learning initiative tailored to your organization's business objectives, challenges, culture, and targeted to your specific audience. Potential topics can include:
Acknowledging Change
Encouraging two-way communication
Dealing with resistance to change
Creating alignment
Starting change
Creating a sense of urgency
Motivating
Managing Change
Building and maintaining relationships
Conflict resolution
Being accountable and holding people accountable
The Power of Practice - Simulation-centric Learning
To help learner's experience the issues of change management in a risk-free environment, every learning journey includes a change leadership business simulation. Advantexe's change leadership simulation, Fundamentals of Business Change, exposes participants to various behaviors that are necessary for leaders to effectively communicate and execute change.
The simulation works by assigning individuals to a team where they take over their defined role and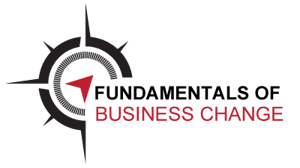 make decisions in the context of this role. Through a set of scenarios, they face various operational situations and personality challenges. As teams make decisions and react to issues, the simulation's branching technology unfolds and challenges learners with a series of interrelated situations. Participants are then measured against the competencies set specifically crafted for their role in the simulation and are provided with extensive feedback from the simulation and debriefing sessions.
Learning Outcomes Include:
How to understand and embrace the process of change
The tools needed to set and manage expectations during a change process
How to unfreeze and freeze behaviors
How to become more resilient and help others in the organization become more resilient
Make the right business decisions
Additional Resources
| | |
| --- | --- |
| | |
| | Why Change Efforts are Still Failing; It's Not What You Think |
| | |
| | 5 Tips to Create a Positive Environment During Business Change |
Learn More - To learn more about Advantexe's Change Management Learning Journeys and simulation, please complete the form below.