Strategic Execution
"Real Geniuses ship" – Steve Jobs
A research study by the Economist called, Why Good Strategies Fail, Lessons for the C-suite indicated the following:
88% of respondents said executing initiatives successfully is "essential" or "very important" for their organizations survival over the next three years.
Yet, an average of just 53% of business initiatives have been successful.
Companies that typically provide both business acumen and leadership training succeeded in 62% of their initiatives compared to the 53% for companies that did not.
Only 41% of companies provide sufficiently skilled personnel to implement high priority initiatives.
Only 11% of the respondents indicated that they are developing those skills.
Leadership is Equal to the Execution of Business Strategy
Every business has plans, but most organizations don't have the business leadership skills to
implement them. To help organizations implement their strategies, Advantexe has developed an interactive business simulation called Leading Strategic Execution business simulation (LSE). This simulation presents participants with difficult scenarios and decisions that are similar to the real world and helps participants to build new leadership skills in a risk-free learning environment. The built in, extensive feedback presents the best practices of leadership and successful implementation of the strategy so participants can make the right decisions back on the job.
Used as standalone eLearning experience, embedded into one of your existing leadership development programs, or integrated into Advantexe's customized, award winning Business Leadership learning journey, Advantexe's simulation helps managers and leaders learn to drive performance and create long-term shareholder value through a flawless process. Users are able to build the skills and tools to align, communicate, motivate, and drive their direct and indirect teams so they can ultimately help your organization achieve revenue, growth, and profit targets.
The Power of Practice
The simulation design experts at Advantexe have been building award-winning business simulations for more than 30 years. In this business simulation, participants engage in two rounds of simulated experience. Each round lasts 45 minutes and targets different competencies, skills and leadership practices. After each round, participants receive immediate results and feedback on the effectiveness of their process and decisions.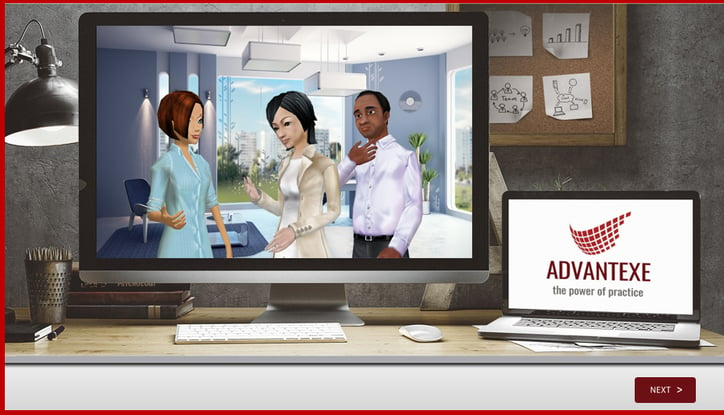 At the start, participants receive information on the organizational structure, key customer accounts, competitors, vendors, their executive management team, and an overview of their direct reports. Micro lessons of business leadership are built into the simulation platform and provide in-the-moment learning and application.
During the simulation, participants take on the role of a leader of a business unit going through significant and potentially disruptive changes including managing a mature portfolio of products that have become commoditized while competitors are launching new next-generation products. They are responsible for implementing the strategy for the business unit including developing an innovation approach to achieve the goals and objectives of the business. Participants are faced with over 25 different scenarios that are based on research of real-life situations. The simulation provides much needed experience and best practices for helping participants to understand, interpret and implement the simulated company's business strategy.
Key Simulation Benefits
By participating in the LSE simulation users will:
Learn to align teams to prioritize initiatives and objectives, communicate effectively, and motivate and drive the team to achieve business metrics of success.
Receive extensive feedback and insights about each decision they make in the simulation.
Have access to a final Competency Report that lists and describes each competency being measured by the simulation and how each one is impacted by specific decisions.
Gain insights into decision-making through integrated analytics and reporting that includes heat maps, performance gap identification, and cross-functional decision analysis.
See how their performance compares to other results in the simulation database.
Topical Focus
The simulation incorporates a focus on a number of strategy, business, and leadership principles and provides participants with the opportunity to make decisions in the following areas:
Driving a unique and differentiated strategy
Creating an innovation culture
Enhancing customer centricity
Improving operational efficiency
Increasing financial margins
Improving business processes and cycle time
Developing seamless global integration
Cultivating and developing talent
Diffusing Conflict
Enhancing Influence Skills
Leading Change
Developing Horizontal Leadership
Target Audience
The LSE simulation tool is designed for senior, middle and front-line leaders to help them understand how to see the big picture and lead through alignment, communication, and prioritization of initiatives.
A Complete Learning Package!
Each participant of LSE receives the following:
Access to 4 foundational LSE eLearning modules. Each module is about 8 minutes long
Framework for Business Leadership
Developing and Managing Strategy
Framework of Business Strategy
Strategic Planning
Customized Solutions
A standard version of the LSE business simulation is available through deployment on Advantexe's learning portal, or the program can be customized to your direct needs, situations, initiatives, and can even include scenarios directly effecting your industry. As part of the customization process, each decision of the simulation can be tied back to the behaviors and commitments of each of your desired organizational competencies and practices.
Learn more
To learn more about the Advantexe's LSE simulation and business acumen training solutions, please contact Jim Brodo at james.brodo@advantexe.com.