Overview:
Seventy percent of organizational changes fail. Some primary reasons are that the change strategy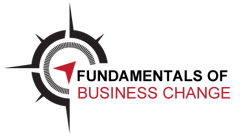 and objectives aren't clear, the change doesn't have the buy-in of mid-management, and employees are resistant to change. To help build foundational change management skills and allow learners to focus on the people side of change, Advantexe has developed the Foundations of Business Change simulation.
About the Simulation
In the simulation, users are placed in a leadership role where they are required to manage a change effort. They weave their way through a storyline by making decisions and reacting to events. After a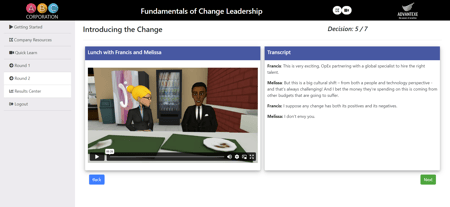 decision, users experience the impact and result of their choice(s) in the form of reactions from customers and colleagues, future events, and business results. The Fundamentals of Business Change simulation unfolds based on the learner's decisions using Advantexe's dynamic branching methodology.
Key decisions include:
Change Vision
Communication Changes
Engaging Resistors
Coaching Counterproductive Behaviors
Embedding the Change
At the conclusion of the simulation, users receive extensive feedback on each decision.
Learning Outcomes:
Every decision in the simulation is tied to a set of overarching competencies required for successful leaders including, Communication, Engagement, and Alignment. Learning outcomes for the simulation include:
Recognize resistance and learn ways to engage resistors
Spot dysfunctional behavior and engage in techniques to lead individuals through stress and overload
Exhibit change-resilient behaviors and develop resilient teams
How to Use the Simulation?
The simulation can be integrated into an LMS through single-source sign-on (SSO) for individual play, integrated into an existing talent development program at your company to further enhance the interactivity and effectiveness of the learning, or Advantexe's team of experienced facilitators can deliver a virtual program anywhere in the world.
Time: The simulation is one round simulation and it takes approximately 60-90 minutes to complete. It can be delivered online for individuals, or as part of a live or virtual training event. As part of a learning journey, the simulation and content can be completed in 3-4 hours.
Audience: The simulation is designed for middle-level managers who are challenged to lead teams and individual contributors through a transformational change.