Research on the effectiveness of strategy execution argues that 50%

of all strategies fail, while others indicate it is as high as 90%. What ever the data, it seems clear... organizations have a difficult time, developing, maintaining and aligning to a company strategy.
Here is How We Can Help
To help build skills to improve strategic execution, Advantexe works with companies to develop interactive and hands-on, in-person and virtual learning journeys. Our business strategy learning journeys integrate critical strategy models and frameworks related to assessing, planning and execution. By providing learners with the foundations of strategic thinking and management, learners are better able to explore implications of business decision-making and how to use business and financial insight as to effectively execute strategic decisions in both the short- and long-term.
Our business strategy engagements are delivered either self-paced, virtual/ live, instructor-led, or a combination that fits your needs. Programs typically include:
Assessment

Pre-work
Live or virtual learning sessions
Digital business simulation
Application tools
Measurement and impact studies
... just to name a few.
The Power of Practice - Simulation-centric Learning
At the heart of the solution, a cloud-based, digital business simulation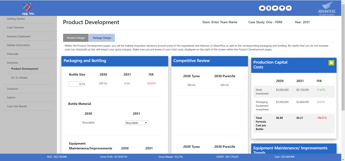 provides experience and practice for the application of newly learned skills, in a risk-free and learn-by-doing learning environment.
The simulation allows learners to choose and identify a strategy and then implement it through cross-functional decision-making. In real time, learners are able to see the cause and effects that their decisions have on the effectiveness of strategy execution and the metrics that matter.
Program Objectives Include:
Enhance strategic thinking capabilities

Utilize tools for strategic analysis and strategy formulation

Practice using frameworks for business strategy

Understand contemporary strategic models

Conduct a competitor analysis and establish competitive advantage

Link strategy to execution

Create a strategic plan

Understand the financial implications of strategic and tactical decisions
Additional Resources
To learn more about our Business Strategy learning journeys please complete the form below or email us directly at jim.brodo@advantexe.com