Knowing your Numbers is Critical to Business Success
Do your employees know how your company makes money and operates as a total business?
Do they make the right decisions that drive the best results for your company, clients, and shareholders?
Can they hold a business dialogue with senior leaders at your company?
In today's volatile business environment, employees at all levels need to understand how the systems of business work together to generate revenue, profit, and shareholder value… all while recognizing how their actions and day-to-day decisions impact the drivers of success.
Here is How We Can Help
To help your employees understand how a business makes money and achieves its goals and objectives, Advantexe has developed a virtual eLearning solution called Business Acumen 101 (BA101).
BA101 consists of a portfolio of short, 20-25 minute eLearning lessons, job aids, achievement badges, a leaderboard, and a dynamic business simulation.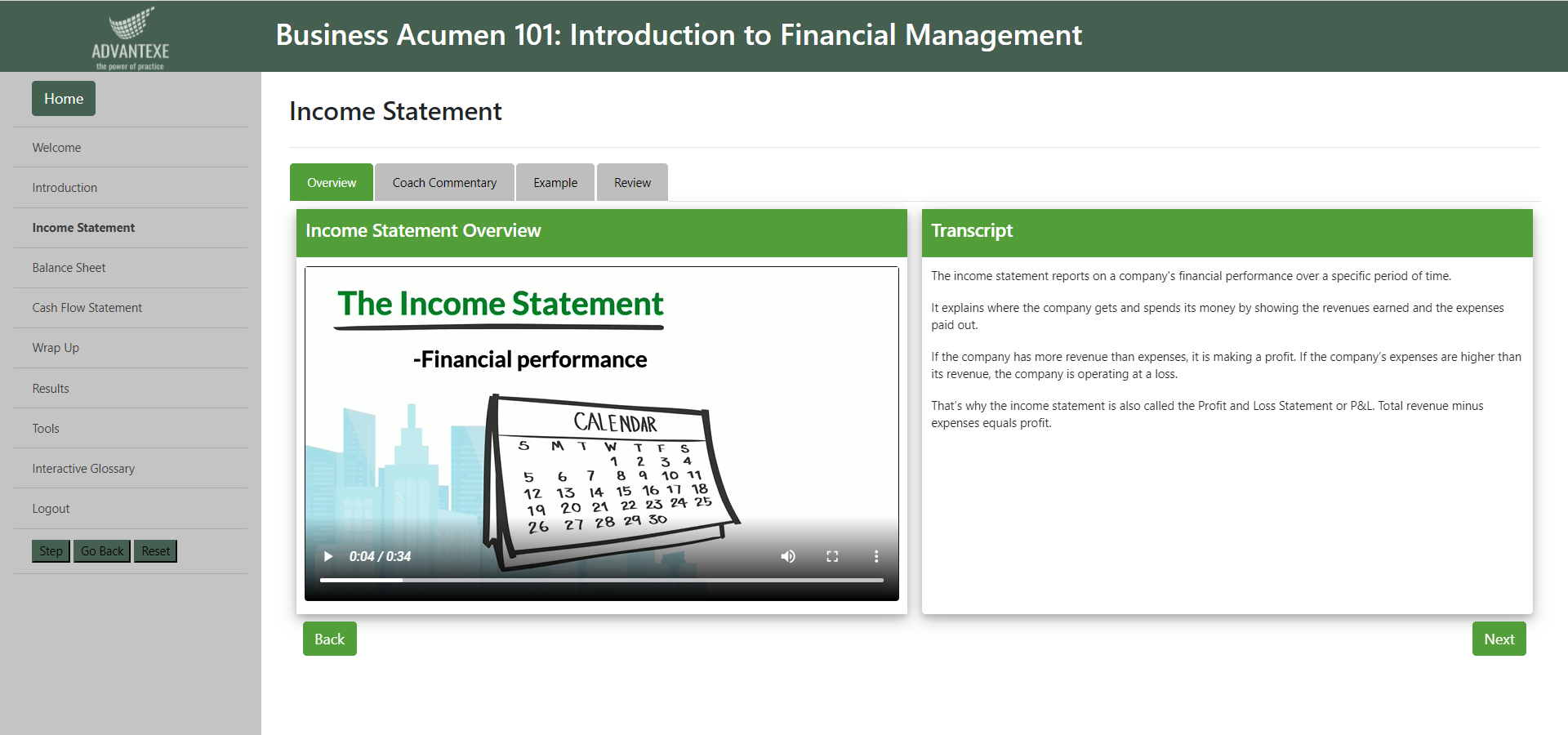 How it Works
As learners work through BA101, they will be exposed to foundational business content on strategy, finance, marketing, and sales. Short assessment scenarios are embedded throughout the learning and focus on real business issues to test the learner's acquisition and application of knowledge in real time.
After the completion of each course, learners receive an achievement badge based on their assessment scores. All course scores can also be collected and tallied for access on a leaderboard.
The Power of Practice - Simulation-centric Learning
At the heart of BA101 is an interactive business simulation that provides learners with hands-on learning experience. In the business simulation, learners take control of a multi-billion dollar global company and run it for several operating periods. Each simulation round requires the learner to think about business management in a systemic way, where knowledge in the areas of strategy, finance, marketing, and sales are put into action to help learners feel more comfortable and confident with their decision-making process and the new language of business.
Content Modules Include:
BA101 eLearning helps to develop a complete set of usable business skills with content modules focusing on the following areas:
Business Strategy
Understanding Financial Management
Income Statement – Part 1
Income Statement

–

Part 2
Balance Sheet
Cash Flow Statement
Marketing
Sales
Target Audience - BA101 is designed for any employee in an organization that needs to develop, refresh, improve, or strengthen their business acumen ability and overall business decision making.
Other Important Elements to know about BA101
Best used as – BA101 can be used as standalone learning, or integrated as pre- and post-work with an Advantexe full instructor-led Business Acumen learning journey
Customized or Off-the-Shelf – can be delivered off-the shelf, or tailored to include company-specific content such as financial statements
LMS Compliant - All of the BA101 modules are both SCORM and AICC compliant and can be integrated on Advantexe's LMS or integrated onto your LMS
Learn More
To learn more about BA101, or to set up a demo, please complete the form below.