Practice Makes Perfect
Many professional fields train employees through experiential learning methods. Pilots, the armed forces, medical, police, and many others all use simulated learning environments, so why not train your business leaders and professionals the same way?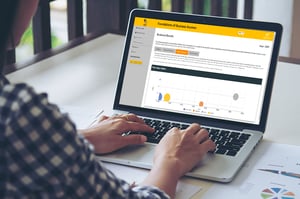 Business simulations provide an interactive learning experience that requires participants to apply what they have learned in a business training event in a robust, risk-free environment. Participants build relevant skills, improve conceptual knowledge, and gain a better appreciation of business strategy and the systems of business management in order to build skills and improve performance.
An immersive business simulation serves as the bridge between learning and real-life experience. It provides learners with the opportunity to make relevant decisions in a competitive marketplace in functions associated with roles in your company.
Key Benefits
"Learners retain only 5 percent of what they hear and 10 percent of what they read, but they remember more than 50 percent of what they learn through discussion and interaction" - Josh Bersin
There are several important elements to keep in mind about this hands-on approach to learning:
Creates more engaged learners - higher levels of interaction make learning fun, increases retention, builds business acumen skills, and improves leadership development programs.
Application of learning creates stickiness - by immediately applying new concepts, participants learn by doing. This creates stickiness and supports the transfer of knowledge back to the job.
An abstraction of reality - more than just a business simulation game, our programs recreate real-world experiences so that learners can practice in a risk-free environment.
Empower learners - by taking control of a business enterprise, participants see and understand how a business works from top to bottom. Participants make many different choices regarding business strategy day-to-day operational decisions.
Prepares learners for the real world – users are able to practice different techniques so that they are ready and better prepared when they encounter similar conditions back on-the-job.
Cross-functional teams result in great discussions - when it comes time to assigning teams for a workshop, we recommend a mix of levels and cross-functional teams. This often leads to great discussions throughout the exercise and creates a stronger experiential learning experience.
Live Classroom, Virtual Classroom, eLearning, or Blended Deliveries - can be delivered in a live classroom, a virtual one, as an eLearning module, a business challenge, or as some sort of blended solution. Advantexe has built and maintains multiple platforms that enable our clients to choose the delivery experience best suited to address the needs of various levels of audience.
Builds a community and network - a great outcome is the connections created between learners. This networking, collaboration, socialization, and community is a valuable by-product of the learning event and one that reaches across functions and departments.
Analytics - Advantexe's analytics platform allows us to track the relationship between learning and its results.
Video Walk-through
Additional Resources
Gallery