Safely Learn by Practice and Experience
Business simulations are proven and effective tools for driving the application of newly-learned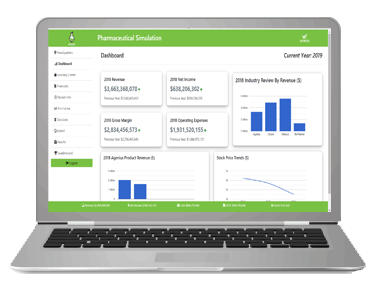 concepts. Advantexe simulations provide a risk-free, learning environment where innovation and creativity can be applied in a real-world setting to build competencies and strengthen critical thinking skills.
Advantexe works with leading companies around the world in a variety of industries to incorporate simulations into live and virtual learning journeys to build skills, enhance decision-making, and drive improved business performance.
In our simulations, learners play the role of organizational leaders, making operational decisions and addressing business situations that are relevant to key functions within the organization. The simulation is used to imitate real-life business situations and help participants learn valuable lessons. Our learn-by-doing approach is proven to be more effective than just reading, listening, or watching.
Advantexe's simulation process includes time for reflection, inquiry, and experiential learning. Learners experience the systemic consequences of their actions and uncover the critical interactions that can prevent or assist in the execution of strategy and business success. When action is taken, our simulations reflect new conditions and present learners with fresh choices and options. The learning is vivid and lasting because of the high levels of interaction and engagement.
Simulation Breadth and Depth
We offer over 100 different types of cloud-based business simulations that cover different business and leadership topics. Simulations are designed for a variety of,
Industries - our industry-based simulations cover tech, SaaS, pharmaceuticals, health care, professional services, manufacturing, retail, general services, and more.
Audience levels - simulations are available for all professionals in your organization - individual contributors, managers, new managers and hires high-potential leaders, and even executive leadership
Topics - Our simulations cover broad business acumen focus areas to specific issues like pricing, driving gross margin, managing COGS, and strategy execution, just to name a few.
Length - to meet the needs of the changing workforce, simulations are available in numerous lengths and complexity from 1-hour simulations to multi-day simulations.
Click here to download our catalog of simulations.
Our clients tell us our business simulations are different because of our;
3-Stepped Simulation Process - Our simulations include three integrated steps. 1) Planning, a review of strategy, culture, initiatives, and goals. 2) Execution, tactical decisions that drive the operations of the company. 3) Events, discrete scenarios, and situations that learners have to manage at a tactical day-to-day level that will have short- and long-term business implications and impacts.
"A-Ha Moments" – learners experience the systemic consequences of their actions and uncover the critical "a-ha moments" that can prevent or assist success
Industry Specialization - We have 40+ industry-specific business simulations that are ready to go
Customization – our flexible platforms allow us to efficiently and effectively customize or tailor a solution in a short period of time to mirror your business ecosystem
Competitive or Collaborative Play - Simulation teams can compete directly against each other, or against artificially intelligent auto competitors
Learning Design - Proven success in the art and science of storytelling, metrics that matter, analytics, and decision-tree branching.
Business Expertise - Founders are Wharton graduates and have over 20 years of simulation, business, and leadership experience
Systems Thinking Methodology - Deep understanding and knowledge of system thinking and system dynamic modeling
Industry Specific
Advantexe simulations reveal that specific basic frameworks of business strategy and execution can be applied to any business ecosystem. We customize for clients across all industries including, technology, financial services, Pharmaceuticals, professional services, specialty chemicals, healthcare, and produce distribution... just to name a few.
Contact us at james.brodo@advantexe.com to request a full catalog. of all of our industry simulations.
Custom Business Simulation Development:
Advantexe's simulations can be customized to your specific requirements and can include your business metrics. Simulations can be played online or at live learning events. We can even develop leaderboards or a contest for more of a "gamification" focused type of learning.
Contact Us to Learn More and To Set Up a Demo
Complete the form below to learn more about Advantexe's simulations and to set up a demo.