"I truly believe that onboarding is an art. Each new employee brings with them a potential to achieve and succeed. To lose the energy of a new hire through poor onboarding is an opportunity lost." ~

Sarah Wetzel

According to the Society for Human Resource Management (SHRM), 50% of new hires fail within 18 months. From a business perspective, this is quite alarming, pushing the expense and lost productivity to organizations into the hundreds of millions of dollars.

Because of the high costs of hiring and retaining talent, onboarding has become a critical focus of many organizations. Companies are investing significant time and resources to get new hires up-to-speed quickly on company processes, systems, and methodologies... with a goal of reducing time to proficiency, lowering turnover and increasing overall engagement.

Here is How We Can Help

Onboarding cannot be a check-the-box activity, nor can it solely focus on individual skill development for a specific role. The onboarding process is the perfect time to introduce new hires to the company strategy and how their business unit goals align with that strategy.

Advantexe can work with you to develop a business acumen and business simulation learning journey that will develop new hire's skills and build an understanding of your business strategy, profitability drivers, target market and competition.

By providing new hires with basic business knowledge, employees are empowered to make daily decisions from a broader perspective, which will have a positive impact on the bottom line.

Our comprehensive learning journeys include a series of flexible learning objects including;
Assessment

Pre-work
Live or virtual learning sessions
Computer-based business simulation
Application tools
Measurement and impact studies
... just to name a few.
The Power of Practice - Simulation-centric Learning
Advantexe's onboarding business simulation is a sophisticated learning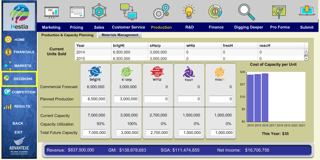 tool in which teams of participants take control of a company that is similar to your company and run the business operations for several business periods. Working in a complex and competitive simulated marketplace, teams compete against each other for market share, brand awareness, and customers so that they can learn the systems of "how your company makes money." They are responsible for total simulations management including setting policy, sales, marketing, operations, R & D and supply chain. They analyze business performance using financial reports, key financial ratios, and other critical business metrics of success. Ultimately, the objective of the simulation is to create value for their shareholders, customers, and employees.
Program Objectives Include:
Understand the business systems of your company and how they work together to generate revenue and profitability
Explore the implications of business decision-making and how to use
financial insight to effectively execute strategic decisions in both the short- and long-term
Provide an overview of your strategy, what it is, and why it is important
Better understand how functional roles play into the big picture of your company's strategy
Case Example
Advantexe customized a business acumen program for a leading technology company's onboarding process. The program integrated a business simulation to provide new hires with a broad perspective of the company, its strategy, and what potential effect the new hires will have on the success of that strategy.
The simulation covered a four year period and explored the importance of having a clear strategy and the actions required to fully execute that strategy. After each simulated year, the participants received feedback on their decisions - seeing the trade-offs between short- and long-term decision-making and the interrelationship between the different parts of the business in implementing their strategy.
Advantexe's learning modules introduced participants to key business acumen topics such as strategic planning, marketing, sales, supply chain management, and financial management.
The learning journey included pre- and post work and was rated a 4.87 out of 5 for developing business acumen skills, cross functional awareness, relationship building and for allowing participants to experience how their daily decisions impact the bottom line.
Additional Resources