"The number one problem first-time leaders face is failing to understand that leading requires entirely different strengths than does doing or managing." ~ Forbes Magazine
Management failure is one of the leading reasons for a business to miss its

business goals. Too often, new managers are thrust into a supervisory or managerial position with little or no training on what it means, and what it takes, to be a good manager. As a result, up to 50% of first-time managers fail within the first year.
Here is How we Can Help
To help you reduce and prevent first-time management failure, Advantexe has developed the Fundamentals of Business Leadership (FBL) workshop and business simulation.
The Fundamentals of Business Leadership™ workshop provides new managers with the skills they need to grow into effective and influential leaders. This experience helps new managers to successfully transition from being an individual contributor to a first-time manager, while also accelerating their development to becoming a manager of managers.
The learning journey components of this solution consists of assessments, business leadership content, practical exercises, group discussions and a business simulation. This combination of learning tools provides a framework for participants to learn-by-doing and allows them to retain new concepts and immediately apply them in their current roles.
The Power of Practice - Simulation-centric Learning
At the heart of the FBL workshop is a computer-based leadership simulation. The simulation allows learners to interact with a real-life storyline that unfolds based upon their decision-making. Learners weave their way through the simulation by making decisions, reacting to events, and interacting with virtual colleagues and employees. Each decision is scored against best practice behavior and extensive feedback is provided on each decision.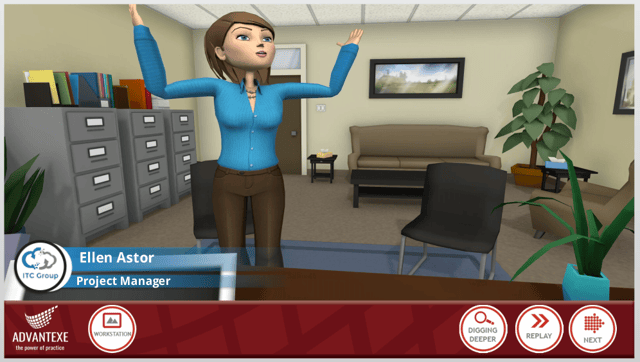 Advantexe has designed the FBL simulation to contain "on demand" learning content in the form of embedded 1-2 minute video content tutorials. So, in addition to classroom or live delivery, the simulation can also be used as a standalone individual self-paced development activity, a virtual team-based activity, or as an experiential team activity where there is little or no time for content sessions.
>>> Click the following for a deeper dive into the simulation - New Manager Simulation >>>
Topics Can Include the Following:
Horizontal Leadership
DiSC® Personality Styles
Leadership Styles
Goal Setting
Communication Skills
Developmental Coaching
Rewards and Recognition
Performance Improvement Coaching
Conflict Management
Developing Others
Delegation
Influence
Additional Resources