Conshohocken, PA – August 25, 2020 – Advantexe, a global leader in business simulation-centric talent development solutions, today announced that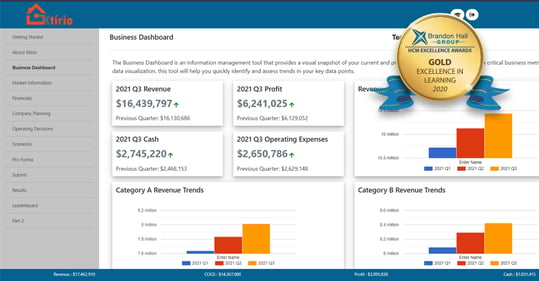 they have won a 2020 Gold Medal for Best Simulation in Learning from the Brandon Hall Group for their "Walk a Mile in the Shoes of Your Customer Sales Simulation."
The simulation, designed with world leader Procter & Gamble, is a two-phased, interactive digital case-study that comes to life! The goal of the simulation is to help sales professionals build the strategic business selling skills necessary to have meaningful business dialogues and to better position solutions to customers from a business perspective – not just a product perspective.
The first part of the simulation puts learners in the shoes of their customer to learn, hands-on, the drivers of business, including:
Setting category strategies
Developing and implementing promotional budgets
Managing shifting product life cycles
Pricing to maintain margins
Overseeing inventory levels to protect cash flow
And much more!
In the simulation, learners run the daily operations of a fictitious retail company called Ktirio. Learners set and execute Ktirio's business strategy through a series of operational business decisions in pricing, marketing, sales, merchandising, and more. After making business decisions, learners analyze Ktirio's business performance using financial reports, key financial ratios, and other critical business metrics of success. This methodology allows participants to learn about their customers business and build the skills to position the value of their solution more effectively.
In the second part of the simulation, learners return to their traditional selling roles, only this time they are armed with the new business perspective of the customer category buyers. Learners participate in interactive role plays where they leverage information learned in part 1 to effectively position the value of their products.
"Advantexe is honored to once again be recognized with a gold award for simulation excellence by the Brandon Hall Group," says Advantexe's CEO, Robert Brodo. "Today, sales professionals need the business acumen skills that will allow them to have deeper dialogues about business trends and issues like margin, omnichannel marketing, and building brand equity, verses product feature-driven conversations. This simulation allows participants to learn about their customers business and position themselves as a business partner by building the skills and confidence to engage in executive business dialogues."
Advantexe has developed a portfolio of industry specific business simulations that can be used by sales professionals looking for that business edge and deeper understanding of their customers. Key industries include selling into High Tech, Manufacturing, Pharmaceuticals, Chemicals, Professional Services, and Government. All Advantexe simulations and role plays are built in the cloud and can be delivered as part of a 100% virtual learning journey. The Walk a Mile in The Shoes of your Customer Simulation is the perfect fit for any customer facing employee selling, marketing, and managing relationships into today's complex business environment.
The Brandon Hall HCM Excellence Awards provide valuable recognition and validation of best practices in all areas of HCM at a time when they have never been more important to both employers and employees.
Award entries were evaluated by a panel of veteran, independent senior industry experts, Brandon Hall Group analysts and executives based upon the following criteria: fit the need, design of the program, functionality, innovation, and overall measurable benefits.
About Advantexe
Advantexe partners with clients around the world to build the business acumen, leadership, and selling skills needed to execute their business strategies. Our comprehensive toolkit includes continuous learning engagements powered by hands-on skills assessment, dynamic digital business simulations and cloud-based reinforcement tools that encourage immediate skill application.
About Brandon Hall Group, Inc.
With more than 10,000 clients globally and 20 years of delivering world class research and advisory services, Brandon Hall Group is the most well-known and established research organization in the performance improvement industry. We conduct research that drives performance and provides strategic insights for executives and practitioners responsible for growth and business results. (www.brandonhall.com ).
Media Contact:
Jim Brodo, CMO – Advantexe