Advantexe Learning Solutions Announces the Launch of Virtual Learning Environment
Conshohocken, PA – [July 30,2014] – Advantexe Learning Solutions, a global leader in Business Acumen, Business Leadership, and Strategic Business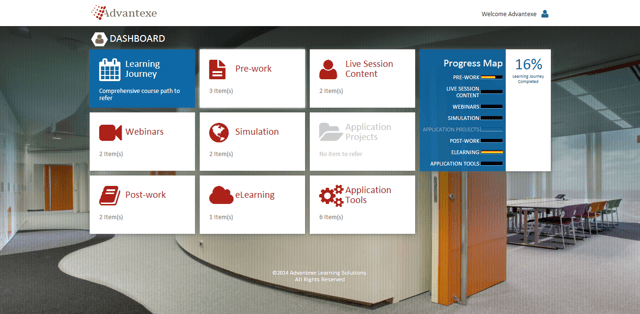 Selling training solutions using business simulations, is pleased to announce the launch of its Virtual Learning Environment (VLE) solution.
"The Virtual Learning Environment will be the cornerstone of all future learning engagements. It provides participants with a 'one stop shop' for the integration of content, business simulations, application, and follow-up in a user-friendly and multi-device platform," shared Robert Brodo, Founder and Executive Vice President at Advantexe.
This interactive online platform allows participants to receive training virtually anytime, anywhere twenty four/seven. The flexibility and time efficiencies offered by this solution help overcome the challenges many organizations face around training global teams and dealing with less time and shrinking budgets. The VLE is the next step in the evolution of workplace learning.
"We saw the need for a more integrated virtual learning solution and built what we believe is the perfect platform," said Mallory Duffy, who leads the VLE design and implementation team. "By combining live and on-demand learning in a virtual setting with simulations and rich content, we've been able to create a community of learning that extends well outside the walls of the traditional classroom."
After successful pilots with several global organizations, the VLE is available to all Advantexe clients and can be customized to suit the needs of any target audience.
For More Information: Contact Jim Brodo, CMO - james.brodo@advantexe.com