Conshohocken, PA – January 19, 2017
–
Advantexe Learning Solutions
, a global leader in
business simulation
-centric training solutions, today announced the launch of a new innovative virtual learning solution, Business Acumen 101 (BA101).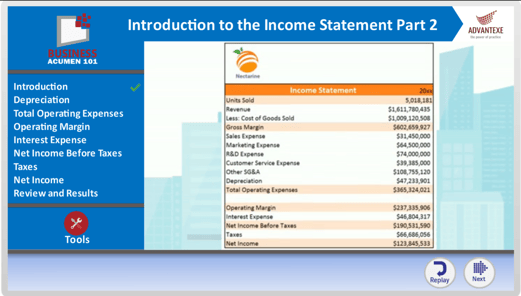 BA101 is an eLearning library designed to help employees at all levels to better understand how a business makes money and achieves its goals and objectives.
This integrated and interactive eLearning solution consists of a portfolio of 8 bit-sized lessons that can be completed in 20-25 minutes or less. The courses, which teach your core performers how businesses make money, include application tools, embedded assessments, and achievement badges.
Learners are able to hone, strengthen, and refine their business acumen skills with content modules covering the areas of:
Business Strategy
Financial Management
Income Statement
Balance Sheet
Cash Flow Statement
Marketing
Selling and Sales Process
At the heart of BA101 is a computer-based business simulation exercise that provides learners with an opportunity to apply newly acquired skills in a risk-free environment. Learners try different business strategies, test ideas, practice different techniques and experience the immediate effects that their functional business decisions have on a company's financial performance.
"Improving the Business Acumen skills of employee is, and should be, at the top of every CEO's wish list," says Robert Brodo, General Manager and Co-founder of Advantexe. "In today's very uncertain markets, employees need the skills and confidence to think strategically, make informed business decisions, and view their customers, competitors, and own company cross-functionally and in the context of driving improved business performance. Business Acumen 101 will help learners feel more comfortable with the basics of business concepts and better understand how their role fits into the larger picture of driving revenue, profit, and shareholder value."
Learn More
For more information on the Business Acumen 101 eLearning suite, please contact jim.brodo@advantexe.com.
About Advantexe
Advantexe Learning Solutions partners with clients around the world to build the business acumen, leadership, and selling skills needed to execute their strategies and achieve meaningful business results. Our comprehensive toolkit includes skills assessments, dynamic learning engagements powered by computer-based simulations, and reinforcement tools that encourage immediate skill application. These elements combine to produce a measurable and lasting impact on our clients's success.
Media Contact:
Jim Brodo, CMO – Advantexe - Jim.brodo@advantexe.com
Learn More About Advantexe - Contact Us Today - Complete the form below or call us at 610-828-8707