Advantexe Partners with Silicon Valley Executive Education (SVEE) to Offer Innovative Business Simulation focused on a SaaS Model Business Framework
Conshohocken, PA – June 29, 2021 – Advantexe Learning Solutions, a global leader in business simulation-centric training solutions and Silicon Valley Executive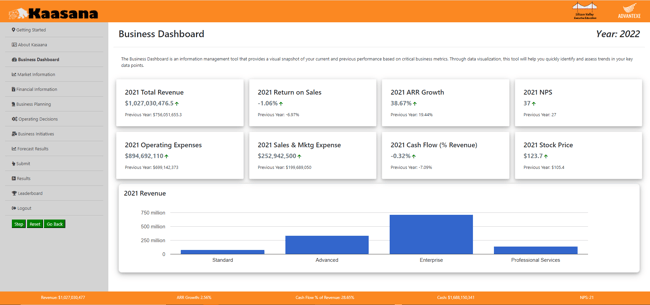 Education (SVEE), an Executive Education solution provider, today announced a partnership to provide a new business simulation learning experience focused on understanding the dynamics of a Software as a Service (SaaS) based business.
The simulation has been developed in response to the rapid shifts in today's business ecosystem and the growing need for managers and leaders in all industries to better understand how SaaS-based companies operate and make money. Utilizing this simulation as part of a business acumen learning journey builds the competencies of strategic thinking, financial management, and leading across the enterprise. As a result of completing the simulation, learners will be able to:
Understand how operational decisions drive company performance

Leverage a company's financial position and key business metrics to improve decision making

Recognize the importance of retaining top talent to ensure the company can deliver on its vision
In much the same way a flight simulator enables pilots to hone their instincts and build their flight skills, the SaaS simulation provides professionals with the opportunity to build their business acumen skills by "flying a business" in a risk-free learning environment. In the simulation, learners manage the daily operations of a struggling SaaS company. The simulation experience allows learners to experiment with different strategies, interact with diverse characters, and visually see the immediate effect that operational decision-making has on the financial performance of the simulated business.
Designed to be completed individually or in small teams, the SaaS business simulation can be delivered virtually, or during an in-person learning event. The simulation is ready to use off-the-shelf and has been built to allow for customization to reflect a client's unique environment and situations. The typical simulation play time is 8 hours.
"We are extremely proud to be working with the SVEE group to provide organizations with a new and innovative learning solution," says Robert Brodo, Advantexe CEO. "SVEE is a leader in this space and has a stellar reputation with their clients. We are looking forward to working with their team to assist learners in developing the necessary skills to succeed in today's complex and changing SaaS market."
"The leadership playbook is always changing, but there's one constant: when you invest in the development of your people, you always win," said Robert David, SVEE Faculty Director. "We could not be any more pleased to be partnering with the team at Advantexe and look forward to bringing their business simulation platform to new audiences."
About Advantexe
Advantexe Learning Solutions partners with clients around the world to build the business acumen, leadership, and selling skills needed to execute their business strategies and achieve meaningful business results. Our comprehensive toolkit includes skills assessments, dynamic learning engagements powered by computer-based business simulations, and reinforcement tools that encourage immediate skill application. These elements combine to produce a measurable and lasting impact on our clients' businesses.
About SVEE:
Agile, content-focused, and results-oriented, SVEE is a unique player among traditional executive education organizations: a provider driven by behavioral practice and geared solely toward real-world success. With a flexible digital model and an impressive roster of expert faculty at its disposal, SVEE has quickly established itself as a transformative force in the ExecEd marketspace.
Media Contacts:
Jim Brodo, CMO – Advantexe - james.brodo@advantexe.com