New Online Business Simulation Helps Build and Strengthen Business Acumen Skills
Conshohocken, PA – July 28, 2020 – Advantexe Learning Solutions, a global leader in digital simulation-centric training solutions, and Paradigm Learning, leaders in classroom-based business games and simulations, today announced the launch of a partnership to co-develop and deliver an asynchronous digital board game business simulation called Zodiak Pro™.
The digital simulation was jointly designed in response to the growing need for interactive and engaging virtual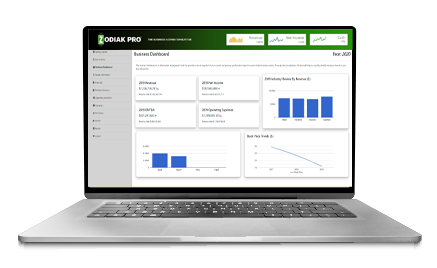 learning solutions. The simulation will combine the power of Paradigm's award-winning Zodiak business acumen classroom programs with Advantexe's proven and systemic approach to cloud-based business simulation development. The goal of the simulation is to provide learners of all levels with an opportunity to develop business and financial literacy so that they can confidently and meaningfully impact the success of their departments, teams, and organizations.
In the simulation, learners have been recently appointed to take over the role of Chief Executive Officer of the Zodiak Innovation Group (ZIG) by the Board of Directors. Despite steady financial growth, Zodiak has been struggling to keep pace with the competition in a changing and disruptive market. Over the course of three simulated years, learners set an overall strategy and work with a simulated business coach, board members, and senior team leaders to make day-to-day operational business decisions and achieve business goals. The simulation will provide learners with the opportunity to build, enhance and strengthen skills in business acumen including strategy, marketing, sales, supply chain, R&D, human resources and more.
"We are very excited to be able to team up with Paradigm, the indisputable experts in classroom business simulations," says Rob Brodo, CEO of Advantexe. "By combining our development capabilities and simulation platform, business modeling techniques, and experience in creating scalable virtual learning journeys with the proven success of Paradigm's Zodiak business simulations, we are developing one of the most unique and innovative business simulations to hit the corporate training market."
According to Robb Gomez, COO of Paradigm Learning, "Working with Advantexe is energizing and exciting. The company's unparalleled expertise in digital simulation design coupled with their extremely high-quality standards makes them an excellent partner for this exciting Zodiak Pro™ design project."
The simulation is being designed as an asynchronous learning experience and will leverage Advantexe's Artificial Intelligence platform to enable and support learning, guidance, and feedback. The simulation can be integrated into LMS systems, leadership development programs, new manager learning solutions, and emerging and high-potential leader initiatives.
For More Information: To learn more or to pre-order, contact us at jim.brodo@advantxe.com