Conshohocken, PA – September 3, 2021 – Advantexe, a global leader in business simulation centric talent development solutions, announced that Duke Corporate Education (Duke CE), Merck Pharmaceuticals, and Advantexe have been recognized with numerous awards for training excellence and innovation using technology including:
The awards have been given for recognition for both virtual learning and for the use of interactive business simulations in learning. The business simulation is a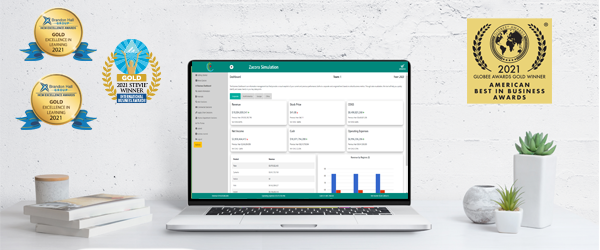 cloud-based, digital learning tool that allows participants to practice running a global pharmaceutical organization to develop their leadership, business, and financial acumen skills in a risk-free environment. In much the same way a flight simulator helps pilots in developing their flying skills, the business simulation helps business professionals build and strengthen their business acumen skills in order to better "fly their business."
The simulation is part of an intensive multi-day virtual business and leadership learning journey. Participants serve on the executive leadership team of fictional Zacora Pharmaceuticals and simulate financially turning the company around. This intense simulation helicopters participants to the highest level in an organization where they are developing and executing a global strategy through Marketing, Sales, Manufacturing, Supply Chain and R&D across three different regions (North America, Europe, and China).
Zacora is about to lose the patent on a top selling product, and it will be several years before the portfolio is replenished in the key therapeutic areas. Just like the real world, there are always unplanned events, challenges, and opportunities that teams must respond to.
The virtual program was developed to teach and train next generation leaders how to operate across the enterprise. Participants learn how to effectively navigate in an ever-changing environment and grow their ability to understand, develop, and translate strategy into action, while increasing their financial understanding of business indicators.
"We are proud to be recognized with this array of prestigious awards of excellence for this unique and game-changing learning tool," says Advantexe's CEO, Robert Brodo. "The simulation and learning journey provides a fun, interactive, and immersive learning experience that have proven to help participants understand the "language of finance" and the end-to-end business and financial approaches/considerations in today's evolving and changing global marketplace. We congratulate our Merck and Duke CE partners for their commitment and creativity in helping to develop this extraordinary learning experience."


About Advantexe
Advantexe partners with clients around the world to build the business acumen, leadership, and selling skills needed to execute their business strategies. Our comprehensive toolkit includes continuous learning engagements powered by hands-on skills assessments, dynamic digital business simulations and cloud-based reinforcement tools that encourage immediate skill application.
About Brandon Hall Group, Inc.
With more than 10,000 clients globally and 20 years of delivering world class research and advisory services, Brandon Hall Group is the most well-known and established research organization in the performance improvement industry. We conduct research that drives performance and provide strategic insights for executives and practitioners responsible for growth and business results (https://www.brandonhall.com).
About the Globee Awards

Globee Awards are conferred in eleven programs and competition: the American Best in Business Awards, Business Excellence Awards (Best Employers), CEO World Awards®, Communications Excellence Awards, Customer Sales & Service World Awards®, Cyber Security Global Excellence Awards®, Disruptor Company Awards, Golden Bridge Awards®, International Best in Business Awards, IT World Awards®, and Women World Awards®. Learn more about the Globee Awards at https://globeeawards.com.
About the Stevie Awards

Stevie Awards are conferred in eight programs: the Asia-Pacific Stevie Awards, the German Stevie Awards, the Middle East Stevie Awards, The American Business Awards®, The International Business Awards®, the Stevie Awards for Women in Business, the Stevie Awards for Great Employers, and the Stevie Awards for Sales & Customer Service. Stevie Awards competitions receive more than 12,000 entries each year from organizations in more than 70 nations. Honoring organizations of all types and sizes and the people behind them, the Stevies recognize outstanding performances in the workplace worldwide. Learn more about the Stevie Awards at http://www.StevieAwards.com.
Media Contact:
Jim Brodo, CMO – Advantexe