Conshohocken, PA – [January 04, 2017] – Advantexe Learning Solutions, a global leader in business simulation-centric training solutions, today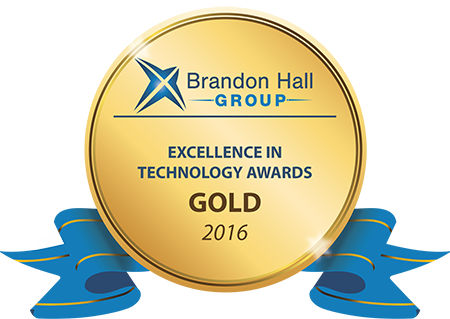 announced that they have won a 2016 Gold Medal for Best Advance in Gaming or Simulation Technology from the Brandon Hall Group for their "Nectarine Business Simulation."
The Nectarine Simulation is a highly advanced computer-based business simulation consisting of over 10,000 integrated algorithms, permutations, and rules. More than just an "electronic case study," Nectarine includes embedded learning bursts, on-line coaching, and integrated business scenarios to create an interactive and risk-free learning environment in which innovation and creativity can be applied in real-world contexts to strengthen business acumen skills and improve the effectiveness of learning.
Based on more than 25 years of experience, the Nectarine Simulation was designed to teach participants to think strategically and ultimately make stronger decisions. Participants take control of a large global organization and manage it for several years, experiencing the impacts of short-term and long-term results. Working individually or in small teams, they are responsible for the entire operation of the organization, making decisions about pricing, marketing, sales, production, R&D, and finance. They choose a strategy and execute it through their operational decisions, measuring performance using financial reports and key metrics. Teams directly compete against each other for market position and share in a highly dynamic and challenging business ecosystem. To provide additional value to clients, Advantexe has also developed an analytics center that compares simulation results and helps to identify additional areas for individual learning and skill development.
"We are all extremely honored to be recognized with such a highly coveted award from the Brandon Hall Group," says Advantexe co-founder Robert Brodo. "This award is a truly remarkable accomplishment and a tribute to the determination and commitment of the Advantexe team and our clients who continually push us to excellence."
"We congratulate our Technology Award winners, and also thank them for leading the way in designing and utilizing technologies that empower organizations to enhance – and in some cases transform – their organizations," said Rachel Cooke, Chief Operating Officer of Brandon Hall Group and head of the awards program. "Our research shows that Human Capital Management technology is a primary driver of innovation, and our award-winning organizations serve as models of success."
The Brandon Hall Technology awards are awarded by a panel of veteran, independent senior industry experts, and Brandon Hall Group senior analysts and executives who evaluated the entries based upon the following criteria:
What was the product's breakthrough?
What makes the product unique?
What problem does the product solve?
What are the benefits customers can expect?
About Advantexe
Advantexe Learning Solutions partners with clients around the world to build the business acumen, leadership, and selling skills needed to execute their strategies and achieve meaningful business results. Our comprehensive toolkit includes skills assessments, dynamic learning engagements powered by computer-based simulations, and reinforcement tools that encourage immediate skill application. These elements combine to produce a measurable and lasting impact on our clients's success.
About Brandon Hall Group, Inc.
With more than 10,000 clients globally and 20 years of delivering world class research and advisory services, Brandon Hall Group is the most well-known and established research organization in the performance improvement industry. We conduct research that drives performance, and provides strategic insights for executives and practitioners responsible for growth and business results. (www.brandonhall.com).
Media Contact:
Jim Brodo, CMO – Advantexe - Jim.brodo@advantexe.com
Learn More About Advantexe - Contact Us Today - Complete the form below or call us at 610-828-8707