Conshohocken, PA – November 15, 2021 – Advantexe Learning Solutions, a global leader in business simulation-centric training solutions, today announced the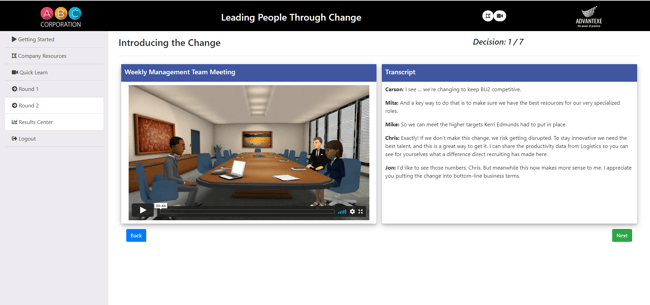 launch of a new digital business leadership simulation that focuses on leading change from a people perspective called Leading People Through Change (LPTC).
Fundamentals of Business Change™ (FBC) is a digital case study that comes to life. The simulation, based on research and input from hundreds of real-world leaders, presents engaging, current scenarios to help build skills to lead teams and individual contributors through a transformational change in a risk-free learning environment. In the simulation, participants take on the role of a manager who is responsible for implementing a new recruiting process across the organization, coordinating with an external partner, and adopting new technology to streamline processes.
As the storyline in the simulation unfolds, learners make decisions to successfully lead through change. The Fundamentals of Business Change simulation evolves based upon the learners' decisions using Advantexe's dynamic branching methodology, which is designed to make learning more realistic, interactive, and memorable.
Every decision in the simulation is tied to one or more of three competencies required to effectively manage expectations and lead people through change.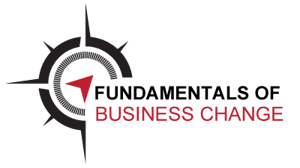 Communication

– how well you communicate before and during the change

Engagement

– how successfully you get team members on board and keep them energized while demonstrating change resiliency yourself

Alignment

– how effectively you recognize and deal with counterproductive behaviors and resistance to change
"Today, more than ever, organizations are experiencing transformational changes," says Robert Brodo, Advantexe CEO. "Our Leading People through Change simulation is a dynamic learning tool that helps build the necessary capabilities and competencies to effectively deploy and support change management with direct reports, teams, and across the organization."
The new Change Leadership simulation lives in the cloud and can be delivered virtually, or during an in-person learning event. It can also be incorporated into an existing training program or experienced as part of an Advantexe leadership learning journey. The simulation is ready to use off-the-shelf, or it can be customized to a client's unique environment and situation.
Watch a video to learn more – click here
About Advantexe
Advantexe Learning Solutions partners with clients around the world to build the business acumen, leadership, and selling skills needed to execute their business strategies and achieve meaningful business results. Our comprehensive toolkit includes skills assessments, dynamic learning engagements powered by digital business simulations, and reinforcement tools that encourage immediate skill application. These elements combine to produce a measurable and lasting impact on our clients' businesses.
Media Contact:
Jim Brodo, CMO – Advantexe
Email - jim dot brodo at advantexe.com