Conshohocken, PA – October 12, 2022 – Advantexe Learning Solutions, a global leader in cloud-based business simulation-centric training, today announced that they have been recognized by Training Industry as a Top 20 Experiential Learning Technology Company for the second consecutive year.
Training Industry's Top Experiential Learning Technologies List recognizes talent development industry leaders for their expertise in the design, development, and delivery of experientia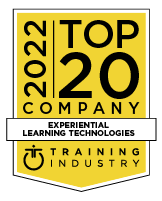 l learning technologies.
Advantexe is a recognized leader in creating highly interactive and immersive business simulations for use in Business Acumen, Leadership, and Sales learning journeys that are delivered both synchronously and asynchronously. In much the same way a flight simulator enables pilots to build their flying skills, Advantexe simulations provide participants with the opportunity to "fly a business, become a stronger leader, or improve selling skills" in a hands-on, risk-free environment.
Advantexe maintains a library of over 100 simulations designed for specific functions and business topics. Simulations vary in length and complexity depending on the audience level, company learning objectives, and available training time. Simulations can be deployed into an existing training program, or Advantexe can deliver virtual, in-person, or hybrid learning events. In addition to our catalog, our proprietary simulation platform allows us to efficiently develop custom solutions that are unique to our client's business challenges and opportunities.
"We are honored with this recognition from TrainingIndustry, one of the most respected groups in the talent development space," says Advantexe's CEO, Robert Brodo. "It is proven that experiential learning is the most effective way to build business skills and leadership competencies. We are dedicated to ensuring our simulations and learning methodologies are the most effective in the industry."
About Advantexe
Advantexe Learning Solutions partners with clients around the world to build the business acumen, leadership, and selling skills needed to execute their business strategies and achieve meaningful business results. Our comprehensive toolkit includes skills assessments, dynamic learning engagements powered by digital business simulations, and reinforcement tools that encourage immediate skill application. These elements combine to produce a measurable and lasting impact on our clients' businesses.
About Training Industry, Inc.
Training Industry (https://trainingindustry.com) is the most trusted source of information on the business of learning. Our authority is built on deep ties with more than 450 expert contributors who share insights and actionable information with their peers. Training Industry's live events, articles, magazines, webinars, podcasts, research, and reports generate more than 7.7 million industry interactions each year, while the Top 20 Training Companies Lists help business leaders find the right training partners.
Media Contact:
Jim Brodo, CMO – Advantexe