Conshohocken, PA – February 16, 2018
–
Advantexe Learning Solutions
, a global leader in business simulation-centric training solutions, today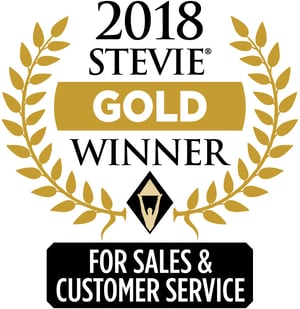 announced that they have won a 2018 Gold Medal from the Stevie Awards. Advantexe's "Brew Squared™" business simulation and business acumen learning journey was recognized for top sales training program. This interactive talent development solution was designed to provide sales professionals with the skills and tools they need to sell more effectively from the business perspective.
Advantexe's Brew Squared business simulation and learning journey presents sales professionals with the opportunity to interactively "walk a mile in the shoes" of their customers. The goals of the program are to develop four essential sales competencies:
Understand the financial challenges of their customers
Develop customer empathy by experiencing their world first-hand
Create emotional connections with customers
Build business acumen skills in order to have business dialogues that position the value of their solutions and how they impact the customer's business performance
At the heart of the program is Advantexe's new digital business simulation, Brew Squared. The Brew Squared business simulation provides sales professionals with the opportunity to experience the challenges and opportunities of managing and running a business. Learners make operational business decisions to drive revenue, manage cash, reduce costs and turn a profit. In addition to making day-to-day decisions such as pricing and marketing, learners are challenged by business scenarios that focus on issues such as debt obligations, investing in new ideas, reacting to competition and managing employee engagement. The simulation provides a risk-free learning environment were reps develop an empathy about their customer's business by actually running their customer's business!
"The Brew Squared simulation and subsequent learning journey is a game changing experience for sales professionals," says Advantexe CEO Robert Brodo. "The simulation is a fun and interactive learning experience that is a perfect fit for a formal learning journey or national sales meeting. It enables participants to understand the business side of selling by helping sellers to recognize their customers' business strategy, current financial situation and ways their solutions will help their customers achieve their business goals and objectives such as growing revenues, decreasing costs, and increasing profitability. At the end of the journey, learners develop critical thinking skills and gain compassion for the ups and downs of their customer's business and become a true trusted advisor by collaborating with the customer as a business colleague, and not just a sales person."
About Advantexe
Advantexe Learning Solutions partners with clients around the world to build the business acumen, leadership and selling skills needed to execute their business strategies and achieve meaningful business results. Our comprehensive toolkit includes skills assessments, dynamic learning engagements powered by computer-based business simulations and reinforcement tools that encourage immediate skill application. These elements combine to produce a measurable and lasting impact on our clients' businesses.
Media Contact:
Jim Brodo, CMO – Advantexe
Learn More About Advantexe - Contact Us Today - Complete the form below or call us at 610-828-8707