Conshohocken, PA – June 10, 2021 – Advantexe Learning Solutions, a global leader in digital simulation-centric training solutions, and Level Five Selling, designers of the Level Five Coaching System, today announced the launch of an asynchronous digital Sales Coaching business simulation.
Advantexe and Level Five have joined forces to design a new, immersive digital business simulation in response to growing needs from organizations to build and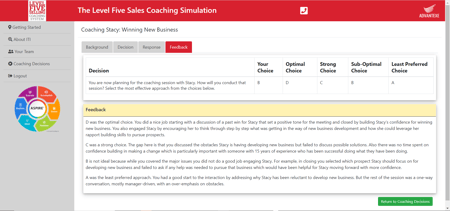 strengthen sales coaching skills to drive improved business performance. The simulation combines the Level Five Sales Coaching framework with Advantexe's proven and systemic approach to cloud-based business simulation development. The simulation is a virtual, interactive learning experience that provides sales coaches with a risk-free environment where they can learn and apply the skills they need to succeed in coaching a team in today's competitive global marketplace.
In the simulation, participants step into the role of sales leader of a team of 6 sales professionals with varying levels of expertise and experience. The simulation has built-in micro-lessons and downloadable job aids on the Level Five Coaching model and the A.S.P.I.R.E.TM coaching approach. Learners leverage this information and their own experience to plan coaching dialogues with their simulated team members to help them achieve success. The coaching scenarios unfold based on the participant's choices. They receive immediate feedback so they can learn and improve as they proceed.
At the end of the 45-to-60-minute simulation experience, participants receive an overall coaching score and a downloadable summary of the coaching situations and best practices for each scenario. They may also attend a facilitated debriefing to compare answers and discuss best practices in their own sales organization.
The simulation has been designed to be completed in 45 minutes by an individual and 60 minutes by a small team. It is the perfect developmental tool for:
Experienced sales leaders looking to elevate their skills to the next level

Newly promoted sales managers

High potential sales representatives who plan to enter a sales leadership role
"Coaching is a very challenging skill to become proficient in without practice," says Rob Brodo, CEO of Advantexe. "This simulation combines the power of the Level Five Sales Coaching process with our interactive learning technology to help sales coaches develop the skills they need to succeed in coaching a team in today's competitive global marketplace."
According to John Hoskins, Founder of Level Five, "Top gun sales managers now have their own coaching simulator. No more "winging it" when they are coaching tough performance challenges."
To learn more, contact us at jim.brodo@advantxe.com com.
About Advantexe
Advantexe Learning Solutions partners with clients around the world to build the business acumen, leadership, and selling skills needed to execute their business strategies and achieve meaningful business results. Our comprehensive toolkit includes skills assessments, dynamic learning engagements powered by computer-based business simulations, and reinforcement tools that encourage immediate skill application. These elements combine to produce a measurable and lasting impact on our clients' businesses.
About Level Five Learning
Level Five Selling, L.L.C. creates value for our customers with dedication and a single focus on developing aspiring and incumbent frontline sales leaders into masterful recruiters, trainers, and coaches. We assist our clients in implementing sales coaching systems that include the process, tools, and skills necessary to build high-performing sales teams. Visit us on the web at http://www.levelfiveselling.com or call us at 800-975-6768 to learn more.
Media Contact: Contact Jim Brodo, CMO - james.brodo@advantexe.com