Conshohocken, PA – September 23, 2020 – Advantexe, an award-winning global leader in business simulation- centric talent development solutions, today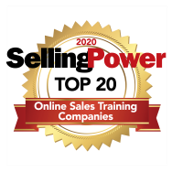 announced that they have been named to Selling Power Magazine's first-ever Top 20 Online Sales Training Companies list. The list was created in response to the growing need for virtual sales training due to the global COVID-19 pandemic, and to help sales leaders select the right virtual sales training partner.
Advantexe is a training and performance improvement organization that designs and delivers customized, in-person and virtual learning solutions in the competency areas of Business Acumen, Business Leadership, and Strategic Business Selling. Advantexe provides organizations with integrated virtual learning journeys that incorporate digital business simulations to ensure a learning environment that maximizes a return on training investment. For online sales training, Advantexe simulations include:
Business Acumen Simulations

-

help sales professionals build the strategic business selling skills necessary to have meaningful business dialogues. Sales Professionals "Walk a Mile in the Shoes of their Customer" by running their customers business and learn how to better position solutions to customers from a business perspective – not just by positioning product features and functionality.

Role Play Simulation

– a

cloud-based application platform designed to build skills, drive learning retention, and provide a virtual and effective way for managers to assess development. The platform includes three unique role play methodologies:

Observe and Rate in which learners review and assess a situation, Single Play in which learners respond to a prompt and get evaluated on their response, and Live Role Play in which learners perform a role play which is recorded for review.

Each can be used separately or combined into a step-by-step learning process.

Best Practice Simulations

-

decision-tree simulations where learners interact with characters in realistic business situations and "the story" unfolds based upon learners' actions at critical decision points.
"We are very excited to be named to the Selling Power Top 20 List. Selling Power is the premier source of information for sales in the industry and it is an honor to
be included on this list of innovative sales training leaders," says Robert Brodo, CEO of Advantexe. "Although the world of talent development changed overnight, we have been strategically investing in a cloud-based simulation platform to allow us to develop, deliver, and track the most powerful type of learning, simulation anytime, anywhere, to anyone. Through this platform, we have the unique opportunity to support all types of sales training by helping clients develop immersive and interactive virtual learning solutions for sales professionals that truly builds skills, retains knowledge, and will make an impact to both the top and bottom lines."
About Advantexe
Advantexe partners with clients around the world to build the business acumen, leadership, and selling skills needed to execute their business strategies. Our comprehensive toolkit includes continuous learning engagements powered by hands-on skills assessment, dynamic digital business simulations and cloud-based reinforcement tools that encourage immediate skill application.
Media Contact:
Jim Brodo, CMO – Advantexe