Conshohocken, PA – November 8, 2021 – Advantexe, an award-winning global leader in business simulation-centric talent development solutions,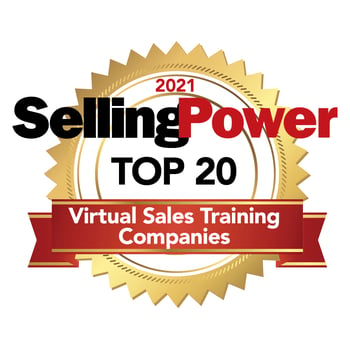 announced today that they have been named to Selling Power Magazine's Top 20 Online Sales Training Companies list for the second consecutive year.
Advantexe is a training and performance improvement organization that designs and delivers customized, in-person and virtual learning solutions in the competency areas of Business Acumen, Business Leadership, and Strategic Business Selling. Advantexe provides non-traditional sales training on selling methodology skills, business acumen for salespeople to have deeper business dialogues, and content and simulations for sales coaching. In 2021, Advantexe developed over 20 simulations for sales organizations ranging from understanding the effect of pricing on Gross Margins to a Sales and Marketing simulation that helped independent insurance reps improve marketing, prospecting, and social selling activities.
All companies on the Selling Power list submitted a comprehensive application that included a detailed listing of their offerings for both training and retention, delivery methods, and their response to changing market conditions. The main criteria used when comparing applicants and selecting the companies to include on this year's list were:
Strategies to keep participants engaged
The scope and breadth of virtual sales training offerings
Methodologies for supporting participant retention
Innovation in offerings and/or delivery as a response to customer needs or changes in the marketplace
Strength of client satisfaction and general client feedback
"We are extremely honored to once again be included in the Selling Power Top Virtual Training Company List," says Robert Brodo, CEO of Advantexe. "In a blink of an eye, the world of sales training was turned upside down. We were fortunate to have started our digital transformation several years before the pandemic and have been able to leverage our digital simulation platforms and tools to provide learners with interactive and immersive learning engagements that stick and make a difference."
According to Selling Power publisher and CEO Gerhard Gschwandtner, "Sales training has shifted drastically since the start of the COVID-19 pandemic. Each of the sales training companies included on our Top Virtual Sales Training Companies was able to successfully pivot their business model to deliver best-in-class, engaging sales training virtually. Their efforts and expertise helped their clients reach and exceed sales goals during a difficult economy."
About Advantexe
Advantexe partners with clients around the world to build the business acumen, leadership, and strategic business selling skills needed to execute their business strategies. Our comprehensive toolkit includes continuous learning engagements powered by hands-on skills assessments, dynamic digital business simulations, and cloud-based reinforcement tools that encourage immediate skill application.
About Selling Power
In addition to Selling Power, the leading digital magazine for sales managers and sales VPs since 1981, Personal Selling Power, Inc. produces the Sales Management Digest and Daily Boost of Positivity online newsletters, as well as videos featuring interviews with top executives. Selling Power is a regular media sponsor of the Sales 3.0 Conference, which is attended by a total of more than 4,500 sales leaders each year. www.sellingpower.com
Media Contact:
Jim Brodo, CMO – Advantexe