Conshohocken, PA – January 25, 2021 – Advantexe Learning Solutions, a global leader in business simulation-centric training, today announced that they have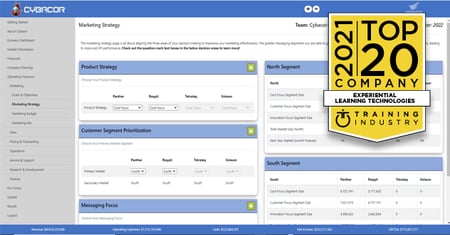 been recognized by Training Industry as a Top 20 Experiential Learning Technology Company. The Top Experiential Learning Technologies List is based on a thorough analysis of the capabilities, experience, and expertise of experiential learning technology providers. Selection to the list was based on the following criteria:
Breadth of capabilities and services.
Industry visibility, innovation, and impact.
Strength of clients and geographic reach.
Company size and growth potential.
Advantexe's business simulation-centric approach to talent development ensures a continuous process of learning that maximizes a return on training investment. In much the same way a flight simulator enables pilots to hone their instincts and build their flying skills, Advantexe business simulations provide participants with the opportunity to "fly a business." Advantexe specializes in the competency assessment and development areas of Business Acumen, Business Leadership, and Strategic Business Selling.
Advantexe has worked with over 250 leading companies around the world in a variety of industries to build skills, enhance decision-making, and drive improved business performance. Advantexe's curriculum library includes over 150 learning modules and a simulation library that consists of 40 different business specific and leadership specific simulations. Advantexe's flexible instructional design strategy includes in-person, virtual, social learning, and self-paced learning journeys customized to clients to support skill development and the transfer of knowledge back to the job.
"Our team is extremely excited by the recognition from Training Industry," says Advantexe's CEO, Robert Brodo. "Although this past year has been challenging for many companies including some of our closest clients, it has also been a time of tremendous opportunity for change and challenging the status quo. Learning virtually has become the new normal because it works, and the power of simulations will continue to transcend the new learning process by providing immersive experiences where learners accelerate their skills by building 'experience through experience' in a hand-on, learn-by-doing environment."
About Advantexe
Advantexe Learning Solutions partners with clients around the world to build the business acumen, leadership, and selling skills needed to execute their business strategies and achieve meaningful business results. Our comprehensive toolkit includes skills assessments, dynamic learning engagements powered by computer-based business simulations, and reinforcement tools that encourage immediate skill application. These elements combine to produce a measurable and lasting impact on our clients' businesses.
About Training Industry, Inc.
Training Industry (https://trainingindustry.com) is the most trusted source of information on the business of learning. Our authority is built on deep ties with more than 450 expert contributors who share insights and actionable information with their peers. Training Industry's live events, articles, magazine, webinars, podcast, research and reports generate more than 7.7 million industry interactions each year, while the Top 20 Training Companies Lists help business leaders find the right training partners.
Media Contact:
Jim Brodo, CMO – Advantexe