Advantexe Learning Solutions and iQue Group Win Brandon Hall Award for Best Business Simulation
Conshohocken, PA – October 15, 2015 – Advantexe Learning Solutions and iQue Group, today announced they have been recognized with a silver medal by the Brandon Hall Excellence Awards in Learning for Best Use of Games or Simulations. Advantexe is a global training and performance consulting organization specializing in the design and delivery of Business Acumen, Business Leadership, and Strategic Business Selling learning solutions using interactive, computer-based business simulations. iQue Group is a leader in learning and talent development consulting.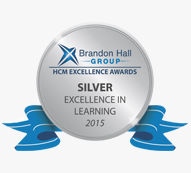 Advantexe works with clients across all industries to develop and deliver simulation-centric learning. The award winning Pharmaceutical Simulation, one of over 50 different types of business simulations offered by Advantexe, is a learning tool designed to develop the business acumen skills of R&D leaders to prepare them for the new reality of how resources, investments, and people will need to be allocated in the most prudent and responsible way in the future.
The Pharmaceutical Simulation replicates the global pharmaceutical marketplace and has teams of participants lead their own billion dollar company over four simulated years, competing with each other for prescriptions and market share. Participants return to their real-world jobs with a big picture understanding of the pharmaceutical business and the inter-relationships between drug development (R&D), manufacturing, and the commercial side of marketing and sales. The Pharmaceutical Simulation is typically delivered through a 1- to 2-day classroom workshop where participants are challenged to think more strategically about business practices and competition.
"We are honored to be recognized with this prestigious award," says Robert Brodo, managing partner of Advantexe. "Simulations are such powerful tools that provide participants with the opportunity for practice, application and change. It's great to see organizations like Brandon Hall acknowledge the importance and value of this type of learning methodology."
"Brandon Hall Award recognize organizations that develop and deploy well-designed, strategically-driven programs that achieve strong results," said Mary Cauffman, partner, iQue Group. "Within 3-4 weeks of completion of the program, participants reported applying their new knowledge and skills and identified millions of dollars in cost impact from actions they have planned as a result."
About Advantexe
Advantexe Learning Solutions partners with our clients to build the skills needed to execute their business strategies and achieve meaningful results. Our toolkit includes skills assessments, dynamic learning engagements powered by computer-based business simulations, and reinforcement tools that encourage immediate skill application. These elements combine to produce a measurable and lasting impact on the business.
For More Information: Contact Jim Brodo, CMO - james.brodo@advantexe.com