Conshohocken, PA – December 19, 2018 –
Advantexe Learning Solutions, a global leader in business simulation-centric training solutions, today announced that they have won a 2018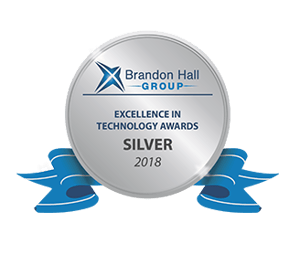 Silver Medal for Best Advance in Gaming or Simulation Technology from the Brandon Hall Group for their new Pharmaceutical Marketing Business Simulation.
The Pharmaceutical Marketing Business Simulation was designed to address the changing dynamics of the health care market place. For the first time in the history of the industry, Pharmaceutical companies are investing more in Marketing than they are in Sales. Digital Marketing has disrupted the way information is distributed to Payers, Providers, and Patients and today's decision makers from Brand Managers to Commercial Leads in R&D must understand how to pick the right strategy, develop the right message, and then utilize the appropriate tactics. This simulation enables learners to understand these complexities and then make the right decisions back on the job.
In the business simulation, participants are responsible for managing and marketing a sophisticated portfolio of pharmaceutical products in a market that will soon experience new therapies and emerging competition. For each brand, teams:
Develop specific product and brand strategies
Determine and allocate an overall marketing budget
Forecast unit sales
Manage the focus of the marketing function
Choose different communications tactics across the marketing mix
Align messaging to different market segments
"We are once again honored to be recognized for our simulation innovation from the Brandon Hall Group," Says Robert Brodo, Advantexe's President and CEO. "We designed the Pharmaceutical Marketing simulation to allow learners to build critical skills, experience the systemic consequences of decision making, and gain insights into the strategic and financial sides of running a pharmaceutical marketing function."
"We're proud to honor the innovators. As human capital management continues to evolve, the creativity of the award winners is breathtaking. Organizations of all size showed that creativity and technology can create new and better work experiences for businesses and their employees," said Rachel Cooke, Chief Operating Officer of Brandon Hall Group and head of the awards program.
The Brandon Hall Technology awards are awarded by a panel of veteran, independent senior industry experts, and Brandon Hall Group senior analysts and executives who evaluated the entries based upon the following criteria:
What was the product's breakthrough?
What makes the product unique?
What problem does the product solve?
What are the benefits customers can expect?
About Advantexe
Advantexe Learning Solutions partners with clients around the world to build the business acumen, leadership, and selling skills needed to execute their business strategies and achieve meaningful business results. Our comprehensive toolkit includes skills assessments, dynamic learning engagements powered by computer-based business simulations, and reinforcement tools that encourage immediate skill application. These elements combine to produce a measurable and lasting impact on our clients' businesses.
About Brandon Hall Group, Inc.
With more than 10,000 clients globally and 20 years of delivering world class research and advisory services, Brandon Hall Group is the most well-known and established research organization in the performance improvement industry. We conduct research that drives performance, and provides strategic insights for executives and practitioners responsible for growth and business results. (www.brandonhall.com).
Media Contact:
Jim Brodo, CMO – Advantexe