Conshohocken, PA – July 25, 2017 – Advantexe Learning Solutions today announced the launch of their newest leadership business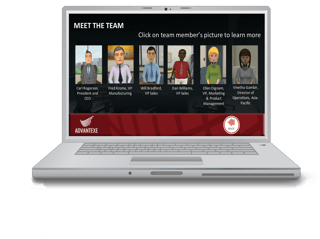 simulation, the Fundamentals of Business Leadership (FBL). FBL is an interactive learning tool that provides new and experienced front-line managers with the opportunity to learn and apply the skills they need to be successful team and process leads in today's volatile, uncertain, complex, and ambiguous global marketplace (VUCA).
In the FBL business simulation, teams of participants take on the role of a recently promoted front-line leader. The first thing they do is assess their simulated team, its personality styles, and the business situation. Participants are then presented with more than 30 different complex scenarios where they weave their way through a storyline by making decisions, reacting to events, and interacting with team members, colleagues, customers, and upper management. Each decision the team makes is scored against the best practice leadership behavior for that situation. At the end of each round, teams receive feedback on each decision and discuss how to apply these best practices to their own jobs in the real world. FBL can be integrated into an existing live development program, or it can be delivered completely online as a capstone exercise to an existing, curated content program that has already been deployed. Key topics covered in the simulation include:
Goal Setting
Accountability
Personality Styles
Coaching and Feedback
Influence
Change
Innovation
And many more…
"We developed FBL to serve as the bridge between learning and real-life application," says Robert Brodo, Co-founder of Advantexe. "In today's VUCA world, leaders are constantly searching for the skills and tools they need to be successful, knowing that more than 50% of those leaders will fail without them. We know that traditional training and access to a list of online training videos can certainly help, but they don't give your learners the chance to practice and learn from mistakes. FBL gives managers the opportunity to practice and apply new skills in a risk-free learning environment that mirrors real-life, just like how pilots learn to fly a plane."
Learn More
To view a video or to download a copy of a FBL brochure, please click here. Contact jim.brodo@advantexe.com if you have any further questions or would like to schedule a 30-minute demonstration.
About Advantexe
Advantexe Learning Solutions partners with clients around the world to build the business acumen, leadership, and selling skills needed to execute their business strategies and achieve meaningful business results. Our comprehensive toolkit includes skills assessments, dynamic learning engagements powered by computer-based business simulations, and reinforcement tools that encourage immediate and continuous skill application. These elements combine to produce a measurable and lasting impact on our clients' businesses.
Media Contact:
Jim Brodo, CMO – Advantexe