It goes without saying that 2020 has been a year like no other. One of the most significant changes to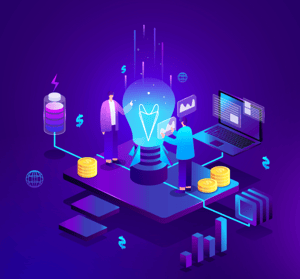 the process of capabilities development has been the overnight pivot and transformation from in-person classroom learning to virtual learning. Literally overnight, corporate talent development professionals were forced to endure a disrupted model and figure out a way to survive.
Not only has everyone survived, but we have all actually figured out a way to make learning experiences better and more impactful.
The use of virtual business simulations is just one way the disruption has been accepted. Instead of having some tired old talking head drone on with endless PowerPoints, learners are embracing the virtual intimacy of running their own businesses and learning by doing in digital business simulation workshops.
Since March, we have conducted more than 4,500 years of virtual simulation. That means hundreds of participants have developed capabilities in the areas of strategy, financial management, marketing, supply chain, operations, sales, and human resources across the enterprise by leading simulated companies.
During this time, I have kept track of the most important Business Acumen lessons learned by participants and thought as we are mid-way through the year that it would be a great opportunity to share:
Not being bold enough (73%)
By far, the most significant learning from participants engaged in business simulation workshops in 2020 is not being bold enough. "What's the point of being incremental when you are leading and executing a strategy" was a common refrain from learners. "I never realized how fierce the competition is. If you aren't taking big, bold steps, they will eat you up alive" said another participant. Business Acumen capabilities provide the confidence and skills to understand strategy and then execute it through big, bold operational decisions that drive the metrics that matter and separate you in the eyes of the customer.
Not targeting our value proposition to focused customer segments (42%)
The second critical learning was the realization that companies can't be all things to all customers and must figure out ways to target a well-defined value proposition to well-defined customer segments. "I know it sounds easy, but once you get in there and try to deliver a portfolio of attributes and benefits to the customer it becomes very hard to remain focused. The simulation taught us that you will be more successful in the long run if you are able to know who your customer is and then do everything possible to pull the right levers that deliver real value that satisfies their need better than anyone else in the market," shared a participant during a Board of Directors presentation where the (Simulated) Executive Leadership team delivered an update to their Board of Directors after the third year of simulation.
Not investing enough time in proper forecasting and budgeting (36%)
"I never knew or thought about what happens if we don't have enough inventory, or worse if we have too much inventory. It's one of those things that in my role we don't ever worry about, but wow it's really important to the financial health of the organization to get forecasting and budgeting right" a participant shared as part of a debriefing session. "Another big 'aha moment' was the realization that I wasn't going to be given a budget…that it was up to us to choose a budget that fit with our strategy and ability to create operation income and free cash flow over and above the cost of capital. I had no idea what those things meant, but now I really do" stated another participant in another wrap-up session.
In summary, the old saying it true, "When one door closes, many other will open." For now, the door has closed on in-person workshops. But many doors – virtual doors to virtual breakout rooms of learning – have opened and are providing tremendous opportunities for Business Acumen capabilities development.