As part of the design and development process to build new Business Leadership simulations,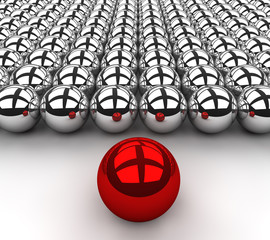 Advantexe conducts in-depth interviews with top global leaders about their challenges and opportunities for success. Over the past few weeks, I've been very surprised by one consistent theme coming from research; a significant number of leaders are extremely "frustrated" that their direct reports and their direct reports' direct reports don't "get the strategy" and aren't "aligned around the priorities," leaving a significant gap in the strategic execution.
"I truly don't get it. We are so clear about our goals and what our strategy is, but it feels that many of our leaders develop acute amnesia about it and instead of leading and prioritizing, they are complaining that they don't get enough direction. I for one have had enough of that…"
In my experience, this is a common leadership issue and it's important for Executives and Senior business leaders to have a deep appreciation for the process of creating alignment. As I shared with the leader whom I quoted, it's easy for some leaders to complain about how their people don't understand the strategic vision because they aren't living it and breathing it every day as their sole focus like you do as an executive. They are strategic leaders and are directly connected to the work being done to deliver the value proposition to customers which means they naturally spend more time being tactical than strategic.
Based on research and observations, here are three quick tips to help create a culture and organization that is focused on strategic alignment and priorities.
Don't assume they get it; over communicate
It's a pointless waste of time and resources worrying about "why they don't get it." Acknowledge the reality that as a leader you can't just assume everyone of in the organization – especially middle-level managers with budgetary decision authority – understands how to create alignment. The big tip is to over communicate and over communicate until you think you possibly can't communicate it any more. Being specific about strategy, execution, and priorities on a continuous basis is more important that setting the actual strategy. In 2018 and beyond, the role and real value of leaders is to make sure all employees see the macro picture and the micro picture at the same time and know how to make the best business decisions that drive the best results.
Provide them with the skills and tools
It's also pointless to over communicate to an organization who doesn't have the skills and tools to be effective as that will lead to even more frustration. Organizations who are serious about their success provide Business Acumen and Business Leadership skills to their employees so they know how to execute strategy through people and measure business success through financial reports and the metrics that support the strategy and priorities.
Reward good behaviors not just results
The final tip is critical because great leaders understand that just driving to results can be short term and not sustainable over the long run. That's why it's important to drive good behaviors and good results. For example, if your company is delivering high quality products to your customers and your goals are to increase revenue and profit, lowering prices and cutting R&D to make your revenues increase and your profits surge may hit a short-term target but those are clearly not great long-term behaviors. Unfortunately, too many senior leaders, let along mid-level leaders even know that, which can cause even more frustration.