We live in a big world that is getting smaller every day as a result connectivity. That fact was very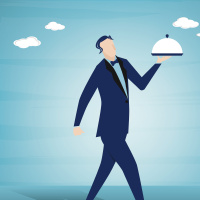 apparent to me today when I took my son and two of his friends to lunch in Washington, D.C.
My sophomore son just finished his last final at George Washington University and I was excited to help him pack and come home. As we were packing and having a great time catching up, my son asked if we could take a lunch break around noon and take two of his close friends to lunch to say goodbye and celebrate the end of the school year.
I was happy to do it and we met them outside of his dorm. When he asked his friends where they wanted to go, both women instantaneously suggested a great restaurant within a 10 minute walk. Using their navigation application (because they didn't remember where the restaurant was), we walked over and went right on on…
These three Twenty-Something friends seemed very comfortable addressing the hostess leaving me (the old guy) to watch them engage in the conversation about seating.
What happened next was fascinating and provides the fodder for this blog.
My son and his friends were dressed in appropriate college gear of jeans, t-shirts, and sweaters, etc. While my group certainly wasn't dressed in suits like some of the business professionals coming in to sit at the bar, they didn't look out of place for a rainy cold day in D.C. either. They approached the hostess and asked for all four of us to be seated. This was at 12:20pm and at least 75% of the restaurant was empty. The put-upon hostess looked at her computer and typed a few key strokes and promptly said, "I am sorry, there are no tables available today. The earliest we can seat you is 1:45. You can sit in the lounge area if you want."
Everyone was extremely disappointed. Not only were they trying to show their "adultness," these three young adults also were really hungry and wanted to sit down now!
"Are you sure? There is hardly anyone here…"questioned one of the young ladies.
The hostess turned ever more obnoxious (if that was even possible).
"I said 1:45 is the earliest, you can sit over in the lounge or you are free to go someplace else."
Wow…this was getting uncomfortable as it seemed apparent that this hostess was absolutely not going to sit us.
And then it happened. One my son's friends tapped on her smartphone app Open Table, and within 30 seconds booked a table at this same restaurant for 12:30pm which was five minutes away.
The belligerent hostess became angrier, but when the Manager saw that my team wasn't going to back down he personally grabbed 4 menus and escorted us to our table. At that moment, I stopped my son and three friends and asked them if they really wanted to eat at a place that treated them this poorly. They looked at each other and unanimously said "yes" that the food far outweighs the treatment.
The food was really good, but the Business Acumen lessons are even better! Here are three quick business acumen factors to remember in the age of connectivity:
Being 100% Authentic to your Value Proposition is an Entry-Ticket to Doing Business
The restaurant and hostess were clearly unauthentic and lied to our faces. In this day of connectivity, most business organizations better realize there is very little room to hide and most lies to customers will be caught. It's the new normal.
Even Though You Choose Your Customers; Other Customers May Choose You
I assume the restaurant we ate at today caters to business people in business suits and not students. It was clear they did not want college kids as patrons. But in the Capital of the United States of America, you can't just tell customers you don't want their business and refuse to seat them. As a business, you must understand that you may not always attract the customers you want.
Great Products Make Up for a Lot of Bad Stuff
If it were up to me, I would have walked out of the restaurant. But I'm glad we didn't because the food was that good. Which is an interesting lesson in business; a great product/service overcomes a lot of bad negative stuff. It's not a way to build a long-term and sustainable business, but it's something to think about.