Maintaining the Long-Game in a Short-Game World
As part of our work in Strategic Business Selling™ sales training program, I typically conduct an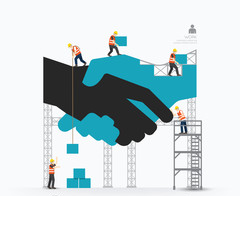 interactive session within the workshop that asks Sales Professionals to conduct an analysis on the strength of their relationships with strategic decision makers inside of their key accounts. I ask each participant to share their stories and use the presentations as a way to share and learn best practices from each other.
One of the stories from a recent session stood out and provides several great best practices in for building long-term business relationships.
The Participant:
"I recently was terrified to find out that our key customer and strategic decision maker was leaving the company and moving away because his wife received a promotion and was required to relocate to her company's headquarters. We worked hard to establish our brand and credibility and our account revenue was growing steadily. We know in these volatile times that there is a lot of turnover but this was the third situation in my accounts and I only have three accounts. A couple of weeks of uncertainty went by and then one day out of the blue I received an email from the account. The subject was "Hello Old Friend" and I instantly knew the name of the sender. The name was of a former customer of mine who I hadn't directly done business with me in more than 10 years but stayed in touch on LinkedIn. My "old friend" was just named as the new Executive Decision Maker of my key account and it was a very important break for us because I had done everything possible to nurture the relationship over the long-term. I was very pleased to know that the 'long-game' was alive and well in my industry."
The participant went on to share how over the next six months he met often with the customer and used their time together to brainstorm and come up with solutions to the customer's business challenges. By the end of the year, the account was one of the top three in the company and the sales person went to President's Club for overachieving his targets.
A few key thoughts…
The participant mentioned this concept of the "long game" in his overview. For the readers of this blog who may not understand that term, it relates to an American sports analogy. The long game long term in this business context means thinking about, developing, and executing a strategy for years into the future. One of the many challenges facing today's sales professionals is that everyone feels under pressure to meet short-term goals and objectives so it's easy to forget about the long game.
Based on the conversations of the learning session, research, and my own observations, here are three things a great sales professional should do every day to play the long game:
Focus on Win-Win Relationships Everyday
A win-win relationship is where both parties of the relationship win; everyone gets the value they deserve relative to the effort they give to the relationship. Too many people in general, and too many sales people live by an "I win, you lose mentality" and that attitude is sure to destroy any chances of surviving the long game.
Do Three Great Small Things Every Day
Execute flawlessly. Think strategically. Innovate and make things better. Treat business people and your customers with respect. Little things, inexpensive things. If you plan and build into your everyday work life three small great things every day, you are doing 600 things a year and 6,000 things in a decade. Those small things build into currency and establish your credibility for the long game.
Stay Connected
Staying connected takes a lot of work. But with the tools available today it's never been easier. Reach out and say hello to people on their birthdays and work anniversaries; drop a note a couple of times a year to just say hello and see how they are doing (not to sell them something.) Congratulate them in their new jobs and new careers when appropriate. Just a couple of minutes a day also creates great value for the long game.