This week is the 4-month mark since the COVID-19 pandemic disrupted everything we knew about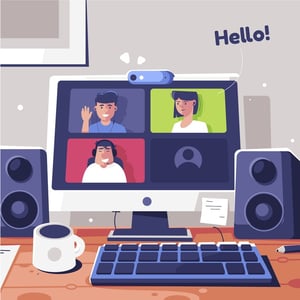 business, learning, and life. For many, the impact has been devastating including the loss of over 600,000 lives globally. For others, the impact has accelerated a change in entire ecosystems. The talent assessment and capabilities development ecosystem has been changed forever and one of the most impactful changes has been the acceleration to 100% virtual deployment.
During these last four months I have been proud to lead a team of professionals that has been on the leading edge of utilizing new technologies and tools to assess and develop the skills of employees in large organizations across many industries around the world. The results have surpassed what many of us ever thought were possible. To mark this occasion, we have reflected back on the 4 things we've learned in the first 4 months of virtual learning.
Optimizing the "Work-Learning" balance
You've heard of "work-life balance," but you probably haven't heard of a concept I call "work-learning balance." The work-learning balance is the relationship between work and learning. Up until the pandemic, if you were fortunate enough to be selected to participate in a learning program, you would have traveled to a nice place, checked into a nice hotel, and spent 2-5 days away from work (and home). In the new normal, it is easy to create an integrated approach where learning is built right into the work schedule. For example, many of our business simulation-centric programs are comprised of 3 connections that are 4 hours long. You can flex them into any schedule and best of all you don't lose any time traveling. Better yet, most organizations are saving millions of dollars in travel, lodging, and food costs by not sending their employees away for the training. The smart organizations are taking those travel budgets and sending more people to virtual training!
Spend more quality time with learners
Because of increased efficiencies in talent development such as less time away from the job and no travel costs, many organizations can put more smaller groups through training. We all know that smaller groups make for better learning and smaller groups enable trainers to spend more quality time with participants. In the last 4 months I have conducted more that 1,000 years of simulation workshops and have never felt better about the job I do because I've been able to spend real quality time with participants in virtual breakout rooms as they weave through the decision making of a simulation workshop. Another benefit of the new normal is that we have been able to provide "surge" facilitation and flex additional resourced into virtual workshops at little to no additional costs.
More time to absorb new concepts and capabilities
One of the biggest complaints of previous learning programs has been there is too much information in too little time. The primary reason why it was always done that way is because you travel to a program, you jam the learning in, and then you go back to the job that you've been away from so you can catch up on everything you have missed. In the virtual learning environment, where you spread the learning to have a better work-learning balance there is the added benefit of having more time to absorb concepts and capabilities. It has been one of the more significant discoveries of this new normal to watch the difference in absorption of concepts from a simulation workshop when the rounds (often delivered in years) are spread over a couple of days or weeks. One of the ways I know it's better is that the actual scores in the simulation (revenues, profits, increased cash flow) have so been much better than they were before.
Virtual Simulations are more engaging than talking Power Points
Not all virtual learning is good virtual learning. Taking old Power Point decks that were delivered in a classroom and now delivering them online makes things worse, not better. We have heard numerous complaints from clients who have been at a loss on how some vendors of training have been unable or ill prepared to deliver quality work. That is why the use of simulation-centric learning has worked so well in this new normal. Business simulations are engaging and help participants learn-by-doing. We've known for years that good simulations present learners with the chance to remember up to 90% of the concepts because they are doing and using the skills as opposed to being told about the skills.
In summary, it's been an extraordinary 4 months. They say that invention is the mother of necessity and watching how the training industry has accelerated to a new model proves that point once again. It will be interesting to see and experience the next 4 months so stay tuned here to this blog!