According to Gartner Research, 31% of CEOs say that a top 10 priority for 2023 is to 'upskill their current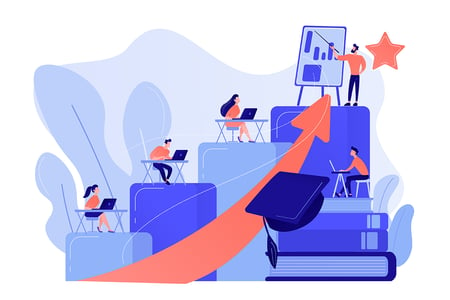 workforce.' This means the Learning & Development teams that design, develop, and implement the talent development strategy will be under even greater pressure to produce meaningful training solutions with real and measurable impacts.
What does that training look like in 2023 and beyond? The days of external consultants and internal technical experts standing in front of a classroom in a broken-down training room reading from a PowerPoint slide deck to explain the newest product, company strategy, or skill area are long gone; we know once and for all that method of learning does not drive engagement or retention. The research Advantexe and others have done, and our hands-on experience in the field with our clients shows that a learning solution must have five key components to be impactful and have a measurable return on investment (ROI)
Include competitiveness and gamification

Mimic real-life and real-world on-the-job scenarios

Be interactive and immersive

Give participants the ability to try new things & fail safely

Be digitally accessible and scalable across the organization or enterprise
Because Advantexe's award-winning simulations meet all these criteria, we'll review each using our solutions as examples.
1) Include competitiveness and gamification
Competitiveness and gamification keep participants more engaged throughout the learning journey, and participants enjoy the competitive atmosphere; it's a natural human instinct to want to see your team's name in the top spot on the leaderboard. Business and leadership simulations have built-in leaderboards that update with each round of play and can be sorted by several different metrics. Teams also receive completion badges at the end of the business simulation. Simulations also provide a breadth of data and analytics that can be extracted and analyzed to show learners' improvements so L&D can measure how well the learning objectives are being achieved. This goes well beyond post-workshop surveys, which are rarely as accurate or trustworthy as the data from learner performance in the simulation itself.
2) Simulate real-life and real-world scenarios
Training experiences that are unrealistic lead to learning that has limited to no impact. The best and most useful simulations are realistic and based on real-world data and best practices. Sometimes they are customized to match a specific business and sometimes the off-the-shelf simulations are perfect for an audience building foundational skills.
3) Be interactive
Adults learn best by doing. With business simulations, participants absorb information at their own pace, apply it by making realistic/real-world decisions, and see the business impacts of their decisions. Rather than be lectured to, or click through an eLearning of one-way information, simulations give learners the chance to roll up their sleeves and take action.
4) Give participants the ability to fail and try new things
Failure is a great teacher, but it can be perceived as risky in the workplace. Simulation-centric learning removes the participant's fear and creates an environment of psychological safety. The simulation creates a risk-free environment where learners are encouraged to try and where they quickly realize it's okay to fail, and where they learn from what didn't work and modify their behavior in the next round of play. Just like flight simulator training for a commercial pilot, business simulations allow training participants to hone their skills as they learn.
5) Be digitally accessible and scalable across the organization
In the new post covid world, with the majority of the workforce either working remotely or in some hybrid format, L&D teams need the flexibility to offer both synchronous and asynchronous learning options to their organizations. Participants have to be able to access learning online, 24/7. Simulations can be used in multiple formats to provide both planned and "on-demand" learning for individuals, small teams, and large cohorts.
In summary, the new world of L&D is here and evolving quickly. Tools like simulations which were once only affordable for the top of the organization's talent pool are now available for the entire organization at prices that yield an immediate ROI.
Footnotes:
CEO Top 10 priorities for 2023 Gartner Research - https://www.gartner.com/en/articles/ceos-turn-a-sharp-eye-to-workforce-issues-and-sustainability-in-2022-23