"Pilots, to a large degree, are like salesmen. They have to be confident to be good at their jobs.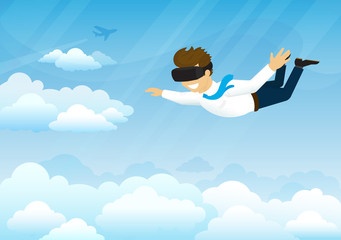 They have to practice relentlessly and plan out all the scenarios of the things that could happen when they're out there. Nothing is more important than preparation. They are also mighty competitive, both as individuals and as squadrons." Simon Sinek, author of Start with Why
I love this quote because one of my favorite sayings about Advantexe's business simulation-centric approach to talent development is that like a pilot who goes through a flight simulator to learn how to fly a plane, business simulation games can help business people and salespeople learn how to fly their business.
One of the many benefits of a learning-by-doing approach that utilizes a business simulation game is that they are preparation tools; the process lets you try different scenarios and think about the permutations of potential outcomes and challenges. It would seem like a no-brainer that every business organization offers its business professionals and sales professionals infinite opportunities to practice and develop skills as much as possible. I believe in a concept called "aggressive preparation," which means you proactively and strongly prepare over and over for every scenario so that you are ready for it when it arises in the "real world." However, I am surprised all of the time by business organizations and business people who do not even know the business strategy and show up for work every day unprepared.
Preparing and practicing is not always fun, and many times it takes hundreds of hours of practice to get good. During the process, it may feel like you are getting worse and/or making no progress. But at the end of the day, the only way to be successful and to be ready for when it counts is to aggressively prepare.
After speaking with academic, industry, and business experts, I have developed this list of 5 reasons why aggressive preparation matters in business today:
Envision Success
Part of the preparation process is envisioning success. Envisioning success is seeing and understanding what success looks like. It's like the pilot envisioning a smooth landing on the runway or the salesperson envisioning closing a huge deal. It's about getting yourself into a state of belief that you can accomplish the objective or goal. And it can also go beyond just accomplishing a goal; it's about believing that you can be successful because you have experienced success in your practice.
Focus on What's Important
You can't have aggressive preparation without intense focus. A business simulator helps you focus on what's important to know and do. Focus on those things that you'll need to do to be successful. Work on them until you feel good about where you are. And no matter what it is you're preparing for, look at both the mental and physical elements that will need your focus.
Understand What You Are Really Preparing For
It's so easy to get lost in the moment and your inbox of thousands of emails and forget why preparation is so important. Should you prepare to make better business decisions? To close a deal? Or simply to understand how your company makes money? Ask yourself the question "Do I know what it is I'm trying to accomplish every day?" Answer it openly and honestly. If your answer doesn't make sense, or if it seems out of alignment with what you see the end result is, then focus more on understanding the scope of what you're focusing on. Sometimes tasks and projects can be ambiguous; when you encounter ambiguity – and you will encounter ambiguity – take the time to understand it and what you are trying to accomplish.
Win the Race: Pace Yourself
Aggressive preparation isn't all about trying to get everything done quickly; it's about getting things done right. This might require practicing something over and over again, like an elevator pitch, a capabilities presentation, or even a product demonstration. Pacing yourself and taking the right amount of time to practice really does make you perfect.
Execute the Plan and Succeed
If you have a plan, and if you practice your skills, you are ready to compete. It's important to remember that when it comes to "crunch time" you can do it; you have practiced the scenario over and over using a business simulation and know how to do it. Your brain has produced "muscle memory" and you know the right things to do.
Simulation Overview Video