In the volatile, uncertain, complex, and ambiguous 24/7 business world of 2016 and beyond, one of
the most difficult challenges leaders face is the loss of employees, subject matter expertise, and focus because of the constant and disruptive changes occurring in every market.
Mergers, acquisitions, splits, start-ups, and downsizings are a few of the drivers of the constant changes impacting and forcing people to change jobs and careers. According to the most recent ADP Workforce Vitality Index, the US job turnover rate is 25.5% annually.
Mathematically that means just about every four years an organization has a complete turnover!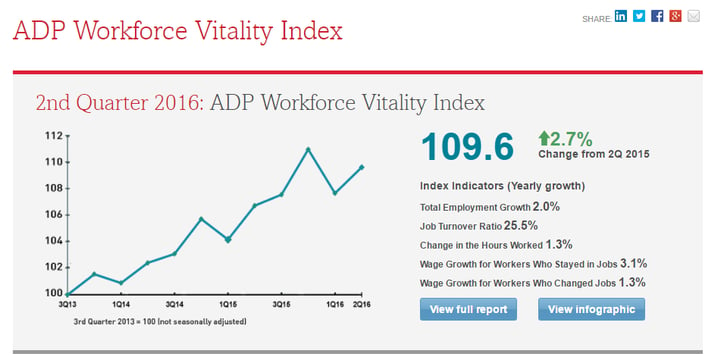 Source: http://workforcereport.adp.com/
If you are a leader struggling with creating a consistent and efficient work environment during immense change and employee turnover, your options are severely limited. In our last blog post we focused on 5 Tips to Help Lead When There are Competing Business Priorities. Today's blog post focuses 5 tools to Help you lead through the loss of subject matter expertise and focus. The post is based on our own research, talking with industry leaders, and years of experience designing and developing award-winning business acumen and leadership training solutions.
Treat your business strategy and value proposition execution as a culture
Most of the time a business strategy is just a plan that people execute and measure success in terms of revenue and profits. When employees leave, too often the expertise of the strategy leaves with them. My recommendation is to treat your business strategy and value proposition as a culture. For example, The Home Depot has a tremendous strategy and value proposition of deep customer intimacy and the culture of customer focus transcends every employee to being so much more than just a job. In other words, the culture outlives the people. You should do everything possible to create that kind of intense culture in your business.
Develop a leadership pipeline
This one should be a "no-brainer" but it is surprising how many organizations don't see the value in developing a robust leadership pipeline. A strong leadership pipeline of well-trained and "ready" leaders can help reduce the sting of the loss of key talent. You need to invest in acquisition, development, retention, and succession planning.
Utilize IT tools to capture information
Another recommendation is investing in IT tools and systems to capture information so that if employees leave, you have the information you need. The classic examples of this idea is sales force automation and customer relationship management (CRM) systems. An automated sales force system allows organizations to keep information about customers and prospects so the information doesn't leave if a sales person leaves.
Develop processes and systems for core tasks
Successful organizations develop processes and systems for core tasks. These processes can be documented so that new employees can quickly get up to speed on the processes and keep the organization moving forward.
Focus on keeping the best who can share
The final recommendation is an employee retention strategy. Focus your attention and efforts on those key employees that you don't ever want to lose. Pay them for performance, coach them, provide interesting work, and surround them with other really strong people.