Lessons from the Past Five Years
In the fall of 2015, I made a strategic decision that shocked our Senior Leadership Team and stunned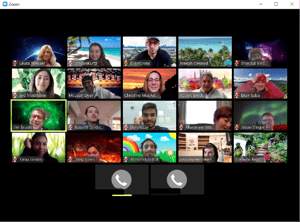 many of our clients who rely on us for world-class, award-winning simulation-centric learning. I shared with the team that within 5 years I believed that more than 50% of our Talent Development business would be virtual so I wanted to shift the development of all platforms, content, and simulation products to be delivered virtually by the start of 2020. There were two primary data points driving my decision:
Cost - the cost of flying and lodging participants for a 2-day training event was more expensive than the training itself
Time - the time participants spent traveling and being away from their jobs had become too costly physically, emotionally, and financially
As part of our strategy to disrupt our own business, we set off on a mission to build a blueprint for what a virtual learning experience, using a simulation-centric approach, should feel like through the eyes of a participant who will integrate learning into the balance of the workweek. The terrible global healthcare pandemic of 2020 is accelerating our plans and gives us an opportunity to share some of our learning and experience over the past five years.
The following are the core pillars of our go-virtual blueprint:
Interaction
A virtual learning journey (VLJ) must be interactive with only small amounts of time engaged in content exchange and lecture. Simulations, case studies that come to life, are the perfect tool to have highly engaged interactive learning moments. In a well-designed simulation, participants interact with situations, scenarios, and characters making decisions and building skills in areas like Business Acumen, Business Leadership, and Strategic Business selling while learning-by-doing.
Collaboration
The second element of the blueprint is having deep collaboration in the learning journey. Virtual learning platforms and simulations are built for collaboration and in some ways offer a better value proposition. In virtual breakout rooms, participants collaborate in terms of setting strategy, making decisions, reviewing results, and making further decisions. They can also collaborate with a host of virtual facilitators who can pop into a virtual breakout whenever needed.
Connections
The next part of the blueprint was making sure real and solid connections are made in the learning journey. Again, simulations are great tools for building virtual connections. By way of example, all of our Business Acumen simulations require teams to develop and present virtual board of director presentations that summarize what they have done leading their simulated companies. These presentations are intense and many times we will have executives of their company on the board asking them very tough questions. There is nothing more galvanizing that than experience to build connections that will last well into their careers.
Socialization
The final element of the blueprint is socialization. Socialization is the process where people within organizations going through a learning journey have the opportunity to network and build social relationships. In several of our larger learning journeys, we have integrated virtual networking events and exercises. There are virtual cocktail parties and virtual exercises where participants are assigned the responsibility of giving a 10-minute leadership story explaining how they opened up about a vulnerability. The emotional connections are incredible, and one participant shared an interesting thought, "If I can become emotionally connected with a complete stranger playing a role on a Netflix TV show imagine how easy it is creating an emotional connection with one of my colleagues who just spilled her guts about the time she had to cancel her first meeting as a leader to run home to take care of a sick child. Believe me, it's much more powerful.
Our simulation development and delivery platform also allow us to socialize data from the simulation. For instance, we can share amongst virtual teams how everyone responded to a scenario. We have asked teams and individuals to fill in text boxes providing their reasoning for the response and shared that with others in the cohort. We have even been able to provide cohorts members with the ability to respond and socialize that answer to a group.
Summary
In summary, there have been many great lessons to share about our strategic move to virtual learning journeys. As the world changes before our eyes and you embark on you own mission to create your own, remember to make them interactive, collaborative, full of connections and with the ability for participants to socialize.
Additional Reading Resources
| | |
| --- | --- |
| Supporting your Vendor Chain through the COVID-19 Crisis | |
| The Work Learning Balance | |
| The New Realities of Managing from a Distance | |