This week, I had the pleasure of spending time in China and Singapore conducting several Business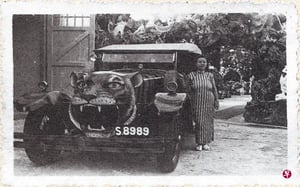 Acumen simulation workshops for US clients developing their Asia-Pac talent. One of the things we pride ourselves on is the ability to take concepts such as strategic thinking, financial management, leadership development, coaching, and others and tailor our award-winning business simulation platforms to meet the specific needs of our global clients. To do that, I typically spend a few hours researching local companies and brands and use their stories to teach and support the work in Business Acumen.
While in Singapore, I wanted to explore long-lasting "legacy" brands and how they've been able to evolve, so I could use them in our work to make concepts relevant for our participants. I reviewed several strong legacy brands and decided on one that is fascinating and a great story of strong business acumen skills.
The Story and Business Strategy of Tiger Balm
It's a product that millions of people have used and it's something that many – including myself – swear by. Tiger Balm was founded in the 1870s in China as a remedy for aches, pains, sore muscles, and headaches and has been an iconic legacy brand across Asia and the United States for decades. The parent corporation, Haw Par Corporation, generates more than $250 million annually (US adjusted) and is very profitable. Founded by Chinese entrepreneur Aw Chu Kin and then refined by his two sons Aw Boone Haw and Aw Boon Par, the company set up their home headquarters in Singapore as the perfect location to drive the business throughout the entire Pacific Rim.
These innovative entrepreneurs revolutionized the marketing strategies of the time by disrupting their approach to the market which included deep customer insights about their pain, the sources of pain, and the solutions that could be created to satisfy the pain. It is believed that one of the earliest examples of the practice of "sampling" is attributed to the brothers selling Tiger Balm. The brothers would travel in horse-driven carts and urge potential customers to try their product. But, instead of hawking more products, they would use the opportunity to gather feedback from their customers which they would then incorporate into their products. They also were very diligent in determining which types of customers they pursued and why. Knowing they had limited time and limited resources, they didn't try to be all things to all customers, rather they were seeking and understanding patterns in the data which helped them determine their target customers and target solutions. All revolutionary concepts in the early 1900s in expanding Singapore.
What the brothers discovered with their sample cart by spending every day they could with and around potential customers was that there was a huge market of poor people who couldn't afford expensive imported English medicines. Tiger Balm was seen as a miracle product that could cure many maladies including headaches, stomach aches, toothaches, and muscle pain at a fraction of the cost of drugs that were manufactured in England and shipped to Singapore. As a result, it became an extremely popular brand and grew to an expanding and loyal customer base in Indonesia, Hong Kong, Malaysia, and then the United States.
Executing a Growth Strategy: Channels and Portfolio
Tiger Balm was able to expand through a channel partner network of distributors. In addition to the distributors, they have also expanded the product portfolio with innovations such as heat patches, joint rubs, neck & shoulder rub, and more. The most impressive thing I learned was Tiger Balm has an over 80% recurring revenue model meaning eight out of 10 customers are repeat purchasers.
Unfortunately for Tiger Balm, what's good is also not-so-good. I also discovered that one of their barriers to growth is that a majority of their customer are part of the "older generation" and the new generation doesn't want to use the products their grandparents used. Connecting a legacy brand like Tiger Balm to the new generation has been very difficult for the current leadership team. So, from a learning perspective, which other iconic legacy brands have been able to make the shift and what have they done to do it? One of the first examples that comes to mind is Coca-Cola who has been able to keep their brand strong and messaging fresh for decades including the message to the next generation in Asia. Some of the things Tiger Balm has done to become a more modern company are things that Coca-Cola has been able to do such as evolve their Marketing strategy to include a much more progressive digital approach that leverages social media and deeper consumer-brand engagement.
Business Acumen at the Core
As Tiger Balm tries to move from a legacy brand to a more vibrant brand with different forms and messaging, the leadership has been clear in terms of what it's going to take to remain relevant. The leadership team believes strongly in foundation business acumen concepts and continues to differentiate and create brand superiority through investments in R&D.
A K Han, an Executive Director, of Haw Par Corporation shared this interesting quote:
"Be relevant to people. If you have a good product, you have to think how to become competitive. If you have a product which can be copied, then it's not a good idea. Build a product that can be patented, which is strong and which people will have a need for a very long time."
In other words, investing in R&D is the most direct path to ensuring product superiority. Product superiority can lead to capturing premium pricing.
"Many brands do not want to invest in R&D, that's critical. Don't be cheap to sell more. Keep your integrity, make sure about the quality and don't cut corners," A K Han further added. And when asked to summarize the entire Tiger Balm approach, he shared, "Entrepreneurship is a lot of hard work, there is no magic. People stumble and grow. It takes a lot of hard work to build something for the future, so stick in there."
In summary, the more global and complex the business world gets, the simpler it can be to understand and take action. Tiger Balm presents us with a classic and timeless case of a legacy brand trying to remain relevant in a market where even though the brand attributes and value proposition are still strong, it's difficult to compete against the perception of being stale.