As we all have experienced, COVID-19 has completely disrupted the world of talent development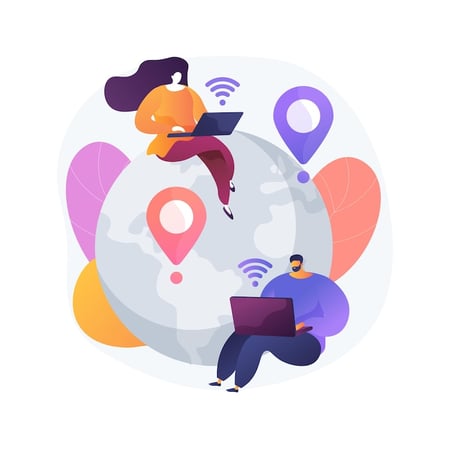 forever. From March 16, 2020, until about April 1, 2020, every Advantexe client canceled or postponed their scheduled live, in-person training programs. Rob and I were talking one night as we were obviously worried about COVID-19 and the future of Advantexe. He said to me, "We have worked hard to put all of our business and leadership simulations in the cloud, why don't we just go to every client and offer to pilot virtual deliveries to show them what we can do?" Long story short, we worked with our long-term clients to figure out a better way to deliver our solutions. Today, Advantexe is working 24 hours per day around the clock and around the world to deliver simulation-centric end-to-end learning solutions in the areas of Business Acumen, Business Leadership, and Strategic Business Selling.
As we continue to emerge from the pandemic, we are now seeing more and more clients asking to start having some portion of the learning journey in person. For example, we have heard feedback such as "We love the virtual sessions, but we want more in-person connections because of the networking and social aspects of learning. Still, we are faced with the reality of people not having the time to spend 8, 12, or 16 hours at a time on training. What can you do hybrid?"
Over the past few months, we have had the opportunity to deliver a number of hybrid learning journeys. Each one is a little different because of the use of our cloud-based digital business simulation platform. Here are a couple of recent examples of what we are doing that may help you as you begin to think about creating your hybrid learning solutions.
Example One – High Potential Leader Learning Journey for a High Tech Company
In example one, we provided a high potential leader program for 30 managers using our new SaaS-based business simulation. The hybrid learning journey included:
Virtual Kick-Off – introduced learners to the learning journey, walked learners through the simulation and gave access to users to our online Business Acumen 101 eLearning modules.
In-Person Modules – a three-hour facilitated workshop that introduced users to key business acumen terms and concepts. Users had the opportunity to meet and play one round of the simulation in person.
Virtual Simulation Rounds – the same teams of learners played three more rounds of the simulation over a three-week period online. After each round, learners came together on Zoom for an end-of-round debriefing on the simulation results. After the overall completion of the simulation, teams worked online to prepare for a mock Board of Director's presentation.
In-Person Board of Directors – teams came together in person to make and deliver their mock Board of Director's presentations.
Example Two – Foundational Business Acumen Learning Journey at Global Scale
In example two, we developed a learning journey for 120 people located in different countries and time zones. In this case, half of the learners were in person at the corporate training center, while the other half were online via Zoom.
An Advantexe facilitator was in a large conference room and delivered the learning content. The facilitator was also streamed online via Zoom to the 60 virtual learners. There was a virtual producer from Advantexe assigned to the Zoom who was responsible for making sure everything was working technically and fielding any questions from the virtual learners.
This learning journey included access to our professional services business simulation. In the simulation, teams of four to five learners took on the role of the senior leadership of a struggling company. Learners who were in person were broken up into teams and sent out to breakout rooms to play the simulation. An Advantexe simulation facilitator moved from room to room to work with the teams. For those learning online, we used the Zoom breakout room function and divided the learners into virtual teams. We had a simulation facilitator from Advantexe on the Zoom call working with each of the teams.
At the end of each round of the simulation, we brought all the learners back into the main conference room and the main Zoom room for a round-by-round debriefing of simulation results conducted by the senior facilitator from Advantexe.
The session concluded with the top four teams giving their mock Board of Director's presentations. Presentations were streamed to the online learners. One of the winning teams was a virtual team and they delivered their presentation via Zoom which was displayed on a big screen in the main room by an overhead projector.
Summary
We are now entering a new and exciting age of talent development. This era will include shorter time periods allocated for learning and a continued desire by learners to have learning delivered virtually. Talent development professionals are going to need to be creative, agile, flexible, and rapidly adjust to learners' time constraints, changing needs, and high levels of demand for strong and interactive learning. It will be critical to understand the power of various digital technologies and look to adopt new technologies, such as simulation, to deliver hybrid learning that makes a difference.