I will admit that about halfway through the 2021 Duke Mayo Bowl between the North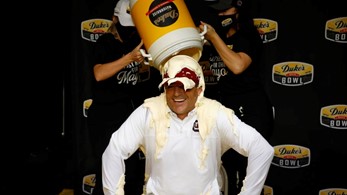 Carolina Tar Heels and the South Carolina Gamecocks I had lost interest in the game. However, the non-stop, almost over-the-top conversation about the after-the-game mayonnaise bath for the winning coach had me on the edge of my seat. We've all seen the Gatorade bath, but a coach having a vat of mayonnaise dumped on his head? That was something I had to see. And it was well worth the wait…
It was a hysterical moment as Coach Shane Beamer got slathered in mayonnaise. And as he sat there, oozing in mayo, I couldn't help but think to myself, "Damn, that doesn't look like the regular mayonnaise I put on my sandwiches. It looks so rich and creamy…" I guess while one is sitting and watching a football coach get a mayo bath, one's mind starts to wander about brands and traditions of buying condiments.
Why is it that I use the same boring mayonnaise? Why aren't we using this amazing-looking Duke's mayonnaise that I've never heard of? For context, I am a "condiments guy" and it is a constant source of "conversation" in my house about how much room the condiments take up in the refrigerator. But the mayonnaise is a "sacred cow" in our house as my wife, and her family, like many families, have been loyal Hellman's mayonnaise users for generations. I never thought about that brand or the implication of it because it was an absolute given that was going to be our brand of mayonnaise for life.
But back to Duke's…because it has "twang." Yes! That is something that I have been missing in my life. My mayonnaise doesn't have a twang and I could no longer live without it. So, I did what anyone would do and go to the Duke's Mayonnaise website to learn more as I had honestly never heard of it. To my surprise, literally, every type of their amazing-sounding mayonnaises were sold out so I went onto Amazon and found a nice 4-pack to try.
Several weeks later, when my Duke's mayonnaise showed up, I was in heaven. This is product leadership! This is outstanding superiority that I am willing to pay a premium price for. I just finished my first jar of Duke's and I had to write this blog about it!
What Makes Duke's Mayo a Product Leader?
According to its website, "Duke's mayonnaise contains a higher ratio of egg yolks than most other commercial mayonnaise, which makes it rich, creamy, and less likely to separate when heated. There's a wisp of twang from vinegar and a touch of paprika. Its texture is thicker and almost custard-like instead of simply slick or gelatinous."
It is truly a unique taste and is the catalyst for making the foods it goes on even better tasting. And best of all, there is absolutely no sugar added!
The Duke Mayo Legacy that Builds the Brand
Over a hundred years ago, Eugenia Duke started selling sandwiches with her homemade mayonnaise to soldiers stationed near Greenville, South Carolina. Within a few years, she was selling over 10,000 sandwiches a day and the customers kept coming back for the unique taste and eating experience. In 1929, Duke sold the brand and recipe to CF Sauer, a family-owned consumer goods company. CF Sauer integrated the brand into its portfolio and grew it all across the southern United States.
As I did some research, it turns out that Duke's mayonnaise is the brand many Southerners grew up on much like the way many Northerners grew up on Hellman's.
In 2020, CF Sauer sold the brand to a private equity firm.
Summary and Lessons
The world that we knew just a few years ago has changed forever. Brand equity that was once driven by generations of consumers passing their decision-making criteria can be dished in a moment. Or as long as it takes to dump a vat of mayonnaise on someone's head. Brand owners need to be very careful that they aren't taking their brand equity and their customers for granted. And if you are an emerging brand, it's time to step up and try new things to create excitement and awareness. Based on what I've learned about Duke's mayo, here are 5 quick lessons that brand leaders of growing brands need to remember:
Never stop innovating – Product leadership is about innovating and keeping ahead of customer expectations. Duke's has launched new flavored mayonnaises and a new line of mustard. I can't wait to place my order.
Make sure your processes are getting easier (not harder) to duplicate and create scale – As you grow the brand, make sure you are doing everything possible to support the growth by having systems and processes that are easily understood and replicable. Remember, new people joining a growing business don't have the old history of when the business was smaller.
Support growth with a team that has the skills to grow – One of the biggest mistakes you can make when you are growing is hiring people with experience who don't want to grow or take risks.
Stay true to the roots of your brand – You can never forget what got you there and you can never forget the roots of the brand.
Don't be afraid to experiment – Think about this for a second…somewhere about 3 years ago, someone held a meeting at Duke's and said, "I have an idea, at the end of the game, let's dump a vat of mayo on the head of the winning coach." Obviously, that person wasn't laughed out of the room and the experiment worked.