How Innovative Big Pharma will Save the Day (Again)
The Coronavirus is having a significant and potentially devastating impact on the world's health and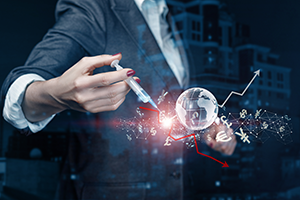 the health of the business world. During the last couple of days, it's become a lot more real. And painful. The Dow Jones Industrial Average has dropped almost 2,000 points in 48 hours and businesses are cancelling orders, laying off workers, and are announcing plans for the "worst-case scenarios."
The latest data published by the World Health Organization (WHO) show more than 80,000 cases of the Coronavirus and currently just 2,459 of those cases are outside of China. However, 390 cases outside of China are new as of today and those new cases are accelerating in volume daily as there were only 300 new cases just the day before.
As the business world plans and reacts with worst-case, nightmare scenarios, there are brave scientists working around the clock in search of treatments. According the WHO, help may be on the way. They report that there is an anti-viral drug called Remdesvir that "may be the best shot for treating the Coronavirus" we will find or discover within the next couple of years and by that point it may be too late.
Remdesvir, manufactured by Gilead Sciences, is an experimental drug developed to fight the Ebola virus is currently undergoing several clinical trials in China and the United States to see if it can treat Coronavirus. Gilead is doing whatever it takes and sparing no expense to work with authorities in the United States and China to enroll patients in the trials to fast-track a reasonable and effective treatment. As you read this, there is a patient at the University of Nebraska Medical Center (UNMC) in Omaha receiving treatment. The first trial participant is an American who was repatriated after being quarantined on the Diamond Princess cruise ship that docked in Yokohama, Japan and volunteered to participate in the study.
You can search the internet and will find thousands of positive stories about Gilead and what they are doing to help save the world. I will point out the interesting hypocrisy that all of a sudden, nobody is bashing Gilead or the rest of the industry for being "big bad pharma.". But that's nothing new. Remember, it was Gilead who discovered a cure for Hepatitis C and all they received was negative press for "charging too much" for the treatment that took billions of dollars of investment to bring to market. They took the punches and kept inventing. The truth of the matter is Gilead would not be in a position today of having a product like Remdesvir in clinical trial if it weren't for the billions of dollars generated from their HIC and HIV drugs so they reinvested from other drug profits into this new one.
No government agency and no socialistic healthcare system would ever be in a position to rapidly develop new drugs like drugs and bring it to market with such acceleration and efficacy.
This proves once again that the capitalist model works, that big pharma is not the enemy, and Business Acumen skills are critical so that businesses can make the right decisions when they execute their business strategy.
In this case, Gilead has chosen Product Leadership as their strategy and they are executing it flawlessly. They are taking capital invested by shareholders and using it to support the science of new medicine to generate revenues over and above the cost of goods sold and the costs of their operating expenses. And in return for their investments, the Gilead shareholders are enjoying a return on their investment in the form of increased value (Gilead's stock price jumped by 5% the day the WHO announced the trials for Remdesvir) and dividends.
As bad as the outbreak is, I am hopeful that is goes away as quickly as it showed up and that everyone take a moment think about strategy, financial management, marketing, sales, R&D, and manufacturing capabilities of the companies who are driven to seek new cures and medications beyond the negativity and noise.