Over the past few years, many business organizations have evolved their selling approach by moving from a "Consultative Selling" approach to "Challenger Selling" approach. A Challenger-type sales person is supposed to deeply understand and "challenge" the customer's business approach by presenting solutions that customers don't know they need yet.
While there are many positive aspects to this approach, it can be ineffective if not used correctly or, worse yet, if the sales professional doesn't conduct the right research and preparation to engage in a meaningful business dialogue.
A different approach is becoming a customer advocate by deploying a business acumen-based selling approach. In this customer-centric approach, a sales professional must have a deep understanding of the customer's business strategy, financial performance, operations, marketing, sales, and other specific management challenges and opportunities. In other words, by using strong business acumen skills, the customer-centric sales advocate can anticipate and solve the customer challenges by engaging with a high-level decision maker as a business-to-business professional and not just as sales person trying to manipulate a sale.
Based on years of experience working with different successful sales professionals who are true customer advocates, below are three tips that can help sales professionals be the eyes and ears of the customer through business acumen-based selling:
1. Understand the Customer's Business Strategy and Competitive Ecosystem
Preparation is the first key to success. In order to become a customer advocate, the successful sales person must understand the customer's business strategy and competitive ecosystem. By business strategy, I am referring to the value proposition the organization is offering to its customers. By competitive ecosystem, I am referring to the different strategies the customer is facing in its market by competitors.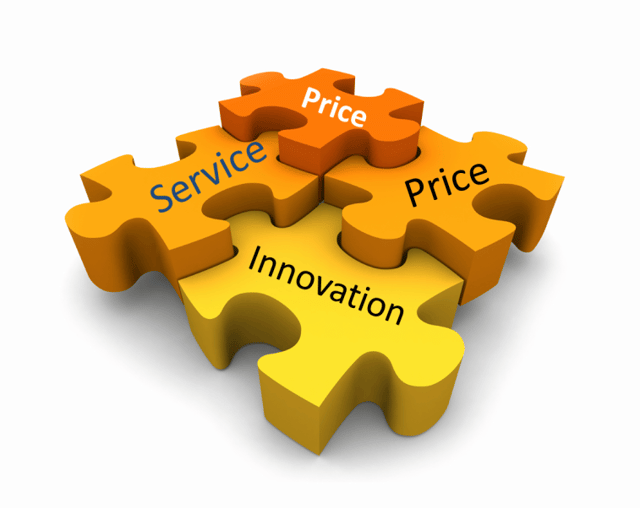 In this graphic, our customer's business strategy is bringing innovative products to market. They are faced with a business ecosystem of competitors who are offering price (two of them) and service as their differentiator. The customer advocate understands this business ecosystem and is able to engage with the customer about the challenges and opportunities and provide solutions to both.
2. Understand the Customer's Financial Goals and Objectives
How does the customer measure success? What are the organization's financial goals and objectives? Often times they are much more than revenue and profitability; they are metrics aligned with the customer's strategy. For example, if our customer's strategy is launching new innovative products, one of their key metrics could be revenue generated from new products. Older, more mature products may be the cash generators for new products and the objectives could be all focused on the new products. The customer advocate will develop financial acumen skills so that they can understand this and engage in dialogues around the challenges and opportunities of launching new products that hit the new product revenue targets.
3. Understand the Drivers of the Customer's Stock Price or Enterprise Value
Generating total shareholder return (TSR) is something both public and privately held organizations strive to achieve. The successful customer advocate will research and discover the critical drivers of the customer's stock price which could include things such as margin growth, cost management, investments in R&D, etc., and engage in a meaningful dialogue around the challenges and opportunities related to driving shareholder value.
In summary, one of the best things about using business acumen skills to become a customer advocate is that when done well, the successful sales professional doesn't have to sell. Customers will seek you out because you have an expertise, knowledge, and approach that adds value to them and their organizations.