Chief Human Resources Officers, Chief Learning Officers, and Talent Development Professionals all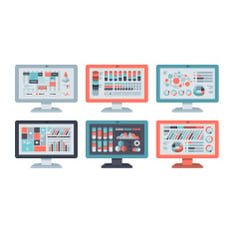 hope that their hard work and billions of dollars of investments in talent development initiatives will one day have a pay-off by providing participants with the skills and tools they need to make better business decisions.
In the tough global business marketplace, "hope" is not a strategy.
Why Business Simulation? Well, business simulation learning engagements can provide participants with immediate skills that will have direct impacts on business performance and improved business decision making. They provide participants with the opportunity to run and make decisions for a total business enterprise and understand the complete system of business, including the levers and drivers of business performance.
By learning about the best practices and systemic drivers of the business ecosystem, participants are able to take these new skills back to the job and make better business decisions. Here is a list and overview of how business simulations can develop the skills to make better business decisions and improve business performance:
Forecasting
Many times, participants of simulation workshops who come from roles in R&D, exploratory science, engineering, marketing, and operations don't have direct exposure to forecasting concepts and therefore don't realize the impact successful forecasting has on business results. One of the first critical learning lessons for participants in a simulation workshop is understanding the interrelationships between forecasting of sales, production, and resources and business results. By understanding the concepts in the simulation, participants are able to have a completely different perspective about their work back on the job. For example, participants from R&D can think about the areas of effort they are investing in and make immediate and better business decisions on where to invest based on a new skill of understanding forecasted market size. In another example, production and manufacturing people realize that they must communicate more with sales and marketing and make the right business decisions to create profitable alignment and satisfy the needs of customers.  
Matching the Right Value Proposition to the Right Customers
One of the biggest business mistakes organizations make is pushing un-wanted value on to unsuspecting and unresponsive customers. It is expensive, unnecessary and can ultimately destroy a company. Unwanted value includes features and benefits that the company thinks have value but customers don't. In a business simulation workshop, participants learn how to read and understand voice of customer data and then how to develop the right products and deliver the right value propositions to the right customers. This is a skill that is immediately transferable and can help participants make better business decisions back on the job.
Efficiencies to Drive Out Unnecessary Costs
Wasted inefficiencies within a business ecosystem cost companies billions of dollar of profit a year. Too often, leaders and employees don't see and understand the big picture of business and focus on the tactics that are in front of them; not the complete business. A business simulation workshop provides participants with the opportunity to experience the enterprise and complete system of business. This process builds the skills of seeing inefficiencies in the system of business and enables them to go back to the job and make immediate and productive changes and enhanced business decisions that drive costs and inefficiencies out of the system.
Prioritizing Strategic Initiatives
Every senior business leader thinks that once a strategy has been shared, everyone in the organization understands it, is aligned to it, and knows what to do. As we all know, that is not how it really works. Employees within large organizations focus on the tasks in front of them and think if they accomplish the tasks, they are doing their jobs. A business simulation experience provides participants with the opportunity to understand business strategy at a deeper level and more importantly how to prioritize the initiatives that support the execution of a business strategy. These critical prioritization skills can be immediately applied back on the job and will help participants make better and prioritized business decisions.
Measuring Performance and Making Adjustments
Most organizations publish their business performance metrics and provide rewards, compensation, and incentives to employees who meet their targets. Unfortunately, too many employees don't understand the metrics and the drivers of the business performance they are being evaluated on. For example, how many employees really understand the definition of EBITDA, Free Cash Flow, and Total Shareholder Return let alone the business levers that drive them?
A business acumen learning journey that incorporates simulation provides participants with the opportunity to experience and understand these business metrics and then based on their understanding make better business decisions that support and drive them.