3 key skills needed to become a better business professional
Last week in one of our Strategic Business Selling™ learning journey workshops one of our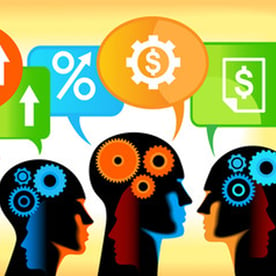 participants shared a story about the biggest sales challenge she is facing today. The discussion began with a group exercise exploring the key trends and potential disruptors in their market in order to identify the areas of focus for the learning. The participant shared the following:
"The agricultural business has changed dramatically over the past 10 years and if we aren't able to adapt to the needs of our customers quickly, we will be out of business like Blockbuster video."
The class and I asked her to elaborate…
"Our customers are much more sophisticated and evolved than ever before. It used to be that deals were done on handshakes and perhaps a shot of whiskey at the local saloon. Now, it's all about business; they use words like 'asset utilization', 'CAPEX', 'EBIT', and increasing margins by 'basis points' and I'm not sure I know what that all means. If we don't build our business skills to meet the changing make-up of our customers and deliver value in terms of business drivers, I am not sure how we will be able to compete because I know our competition is already one step ahead of us."
Business skills for sales professionals is one of the most important and emerging skill sets being required by customers from the vendors that call on them. In this volatile, uncertain, complex, and ambiguous business ecosystem sales training has to change. Being able to deliver value and help customers meet their business objectives is more important that the technical aspects or even the cost drivers of your products.
To help the participants of this learning journey, we shared and discussed three key skills to use to become a better business professional and not just another sales person:
Understand the Customer's Business Strategy
Who are the customer's customers? What is my customer's value proposition to their customers? This is the first step at decoding the customer's needs and positioning your value. Every customer will have a different strategy and value proposition; are they offering their customers high levels of service? The lowest price? Or the best products? Once you can determine their approach, you are better able to match the right solutions to their needs.
Understand the Customer's Goals and Objectives (From the Business Perspective)
After you understand your customer's business strategy, the next step is to understand the goals and objectives that measure that strategy. Is it revenue growth? Some sort of profit metric? Or is it something that refers to asset utilization. In the example of the agricultural sales professional her customers are solely focused on yield of land and making sure that they are producing as much product from the land they have cultivated.
Present Solutions that Solve Business Challenges not Technical Challenges
The third and most important step in the process is presenting solutions and value to the customer that solve business challenges and are not just technical solutions. The sales professional from last week was caught up on thinking the only value proposition she had was sharing the latest and greatest specifications of her products and how inexpensive they are instead of positioning the value of her products in terms of helping her customer achieve their revenue and asset yield goals.
In summary, the uneducated can easily fall into the trap of selling from a product/price perspective because they don't have the skills and tools to move from a sales professional to a business professional. Customers are now demanding that their vendors have business skills and those organizations who are realizing this needs are developing the skills and tools needed to be effective. Those that don't will end up like Blockbuster, Kodak, and Digital Equipment Corporation.