July is now over, and it is quarterly report season again! This week and next, publicly held companies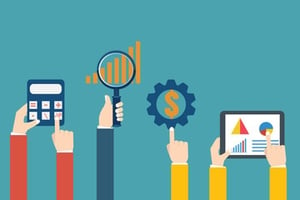 are in the process of delivering the good news and the bad news to their investors and the analysts that cover their stocks. As a lead subject matter expert in the design, development, and delivery of business simulation-centric learning solutions that build financial acumen skills, this week of quarterly calls is always a busy time for me. Many of my clients that I deliver financial acumen sessions for have asked me to continue the learning process by conducting tailored webinars that review the latest quarterly results and tie them back to the key concepts of the learning program as a method of learning reinforcement.
This week, I'm delivering several sessions to clients in different industries including high tech, SaaS, and health care. Even though these industries are very different, there are several common themes that I've been able to weave into my webinars that lift up and reinforce financial acumen skills. During one of the recent Q&A sessions, a participant asked me a great question that after answering in detail, I wanted to turn into the topic of this blog as it illustrates strong financial acumen and the ability to apply new skills to something critical to the company.
The questions was, "Now that we've been through your great training program and are talking about the language of financial management, can you remind us what are the drivers of shareholder value so we can be more focused on making the right decisions to impact it?"
It was great to hear how one learner is thinking about financial acumen and here are some of the primary drivers of shareholder value I discussed during the live classroom portion of the learning journey and then in the follow-up webinar:
Revenue Replacement – Refers to a company's ability to replace the revenue of old products with the revenue of new products. If a company has a strong product portfolio and pipeline of new products, shareholders will be happy for both the short and long terms. R&D, Marketing, Sales, and Operations drive this metric.
Revenue Growth – Refers to a company's ability to grow their "top line" revenue by selling more products, raising their price, or both. Marketing and Sales typically drives this metric.
Operating Expense Management – Refers to a company's ability to successfully manage the expenses of operations such as sales expenses, marketing expenses, and general administrative costs. Marketing, Sales and other operational functions drive this metric.
Successful Investments in R&D – Many companies are realizing there are good investment in R&D and poor investments in R&D. Good investments of course mean there have been significant innovations made to existing or new products and that there is commercial viability so they can be sold. The R&D team drives this metric.
Successful Tax Management – With the recent changes to corporate tax laws, it is more important than ever for companies to have seasoned tax experts and partners who can make the best decisions to reduce tax obligations and increase cash back to investors. The Finance and Tax teams drive this metric.
Profit – Profit is what's left after a company subtracts all of its costs from all of its revenues. Long term, sustainable profit is one of the most important measures of success because it both fuels future investments and provides investors with a return in the form of earnings per share (EPS) and potentially dividends. Everyone in the organization contributes to generating strong profits.
I was thrilled to hear many examples from participants in all functions share their stories and specific actions they continue to make as they apply their financial acumen skills toward creating long-term shareholder value. The best example came from an R&D leader in the pharmaceutical industry who shared that she optimized profitability by outsourcing some trial work to a high quality partner who could produce superior clinical results at less cost than could be done internally. She recognized that every penny saved was a penny that dropped right down to the bottom line.