As readers of this blog know, one of the objectives of publishing it twice a week is to identify and
provide practical insights and tips to successfully overcome the Business Acumen, Business Leadership, and Strategic Business Selling challenges facing organizations every day.
Many of these blogs are generated from conversations and dialogues we have with clients or participants of our business simulation focused learning journeys. During a recent conversation with a client, we discovered a new and perplexing challenge facing his company and one that was in desperate need of a talent development intervention. His challenge…
"We recently unveiled an updated business strategy that is more technically oriented and requires more attention to detail during the sales process. As our customer's business becomes more complex and the materials we use to help them achieve their goals and objectives becomes more complex, we need to have significantly enhanced policies and procedures in the process. Part of our new approach is targeting and calling on new types of customers and delivering a different value proposition. Unfortunately, our sales people aren't following along and doing whatever they want anyway, and worse, their sales managers are letting them get away with it because they don't buy into the new approach either."
This situation presents the organization with several significant Business Leadership challenges. Here is an overview of the Advantexe approach that we utilize in our simulation-centric Business Leadership workshops and virtual learning solutions to help leaders develop accountability for strategies they may not necessarily support or agree with.
The Advantexe Building Ownership Framework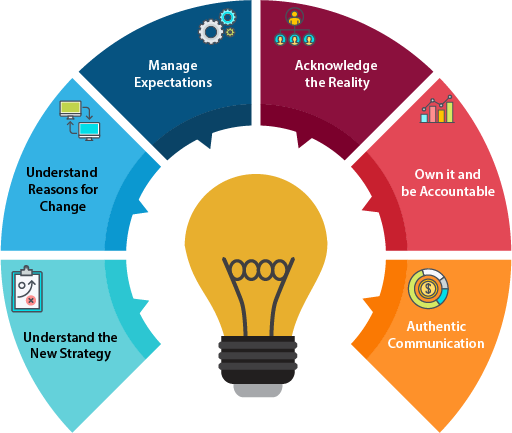 There are six phases to the framework. From an instructional design perspective, each element must be well-understood conceptually and then a skill must be developed through practice and a business simulation to gain effectiveness and the ability to impact business results.
A brief review of each of the elements of the framework:
Understand the Strategy
"If you don't know where you are going, any road will get you there." The entire framework – and most change processes – must start with a deep understanding of the strategy. What is the value proposition to customers? Who are the customers? What is the message we are delivering?
Understand the Reasons for Change
There is a logical and real reason for changing the strategy, approach, and value proposition. Understand it. Understand the whys. Understand the what's-in-it-for-the-customer. And of course, understand what's in it for you as a manager. This is a critical turning point and until you understand the reasons, you won't be able to proceed much further.
Manage Expectations
Your people are listening and watching every word and every movement. One of the most important things you can do as a manager is manage the expectations for your team. Be realistic and authentic. Don't over-promise and most of all, don't tell everyone "it's going to be okay." Explain the reasons and manage the expectations keeping in mind that there is always light at the end of the tunnel when the process is complete.
Acknowledge the Reality
A new strategy, new processes, or new approaches to customers is never easy no matter how great your products are. As a manager, it's important to acknowledge the reality of the situation and remain positive toward driving to solutions and the outcome that will occur when the changes are implemented.
Own it and be Accountable
This is the most important element of the framework and there is one critical observation; "there is no us vs. them as we are them." The worst thing you can do as a manager is disagree with the change and take on the role of a change agitator. If you don't believe in the change, then do the right thing and find a new opportunity. Assuming you find a way to understand it and stay, then you have a responsibility to own it and be accountable. There is no half-way, you are either in, or you're not. If you're in, then make it happen by supporting it and creating an environment of innovation to support it.
Authentic Communication
The final part of the framework is making sure your communications are authentic and believable. In other words, you can't fake it or give it a half-hearted attempt. Being authentic is coming across to people you are working with as natural and credible. Your people need and want authentic communication during times of change and you must do everything possible to help them by practicing and getting better and better at it.