5 suggestions on what new hires should be able to do when starting a new job
In my work designing, developing, and delivering award-winning Business Acumen learning journeys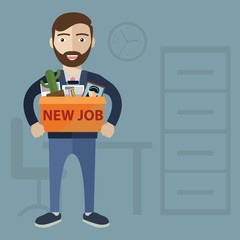 I am continuously reminded by clients of one of their biggest talent development conundrums; "How do we get our incredibly gifted and bright new hires to have a foundational idea about business, what we do, and how to impact results?"
As the dad of two young sons entering the workforce I get it. My boys are articulate, analytical, energetic, and ready to change the business world. Except they don't really understand how that business world really works just yet. They don't see or understand the levers and complex interrelationships of a business and a business ecosystem to be able to make an immediate impact and focus their core skills on the jobs their companies have hired them for.
This is a story that plays out every day around the world as business organizations onboard brilliant new talent and try to provide them with the tools and skills needed to be successful. Too often new hire training teaches people how to turn on their computers and what products they sell. That is a recipe for failure.
After speaking with clients and based on my own ideas and insights, here are 5 suggestions on what new hires should be able to do as you think about how your organization onboards new talent with the expectation they will be as productive as soon as possible.
Understand the big picture
The first skill you want your new hires to have is the ability to understand the big picture. What is business? What is macroeconomics? What is commerce? How are markets formed? Where is my company in this system of business? These are fundamental questions that every new hire should be able to answer within a few weeks of their start date so they are best able to participate and grow in the company.
Understand the drivers of the big picture
Once the new hire understands the big picture, the next step of the learning process is understanding the drivers of the big picture. How does price impact demand? How does Marketing generate leads? How does customer service increase customer satisfaction? These are just a few of the drivers of business a new hire should be able to answer within a week or two of their start date.
Understand their company's strategy and value proposition to their customers
There is nothing worse than any employee working for a business who doesn't understand their own company's business strategy and value proposition to their targeted customers. It's especially troublesome when your new hires don't get it as once that pattern and behavior is set it is very hard going backward. A new hire should be able to provide a basic overview of their company's strategy, value proposition, and ley customers segments within 2 weeks of their hire.
Understand how to execute to support the strategy of their company
How does a new hire know what choices to make when making business decisions? Ask the leader? Ask a peer? Guess? Or follow the strategy of the company. Too often new hires don't know how to make the right business decisions because they are not in alignment with the strategy of their company and the logical choices that need to be made to execute the strategy. A customer asks for a significant price discount. Yes or no? Well, it depends on the strategy. If the strategy is one of operational excellence and driving volume to reduce cost, then a discount is a smart decision!
Understand how to measure success
How does a new hire measure success? What is good performance? Simply fulfilling tasks, accomplishing objectives and key results (OKRs), or something bigger? Something bigger are the financial metrics that the company has set to measure the success of their strategy. Return on Sales (ROS), Return on Assets (ROA), EBITDA, and Total Shareholder Return (TSR) are just a few of the most important metrics of success a new hire should understand and be able to make decisions to impact.
In summary, new hires have never been more intelligent and have never been as less productive. Basic business skills are needed as part of the new hire onboarding process to focus them on the critical drivers of the business. HR and Talent professionals should seek out new ideas and solutions to overcome this challenge and take advantage of the limitless opportunities new talent brings into a company.