3 areas to think about in the potentially disastrous upcoming company earnings reports
As we all head off to an incredibly well-deserved long holiday weekend, it's important to take a few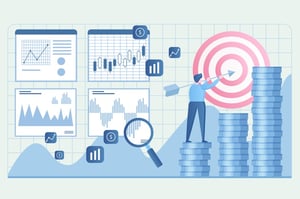 moments to reflect on the first half of the year and start preparing for the second half.
It's safe to say that the first half of 2020 has been unlike anything anyone has ever seen since the beginning of commerce. Within the next few weeks, many business leaders are going to stand before their boards of directors and in front of their analysts to review Q2 earning results and to paint a picture of the future. For many organizations the news will be grim.
This is the time that every organization will need Business Acumen skills to understand what is being said, what it means, and what to do about it. Going from easiest to understand to most complex, I have provided business insights into what to listen for and how to use Business Acumen to know what the delivery of the results are telling you.
Revenue
For most organizations year over year (YoY) quarterly revenue will be down significantly. I am going to predict the range will be as wide between 10%-60%. Anything more than 20% would be a major problem and most companies are going to be reporting major problems. The primary cause of course is the COVID-19 pandemic and the shutting down of the economy. Industries hit the hardest will be retail, hospitality (airlines, hotels, restaurants), and any company that is in, or is directly tied to, the automotive industry.
What to listen for:
The Q2 YoY decrease in revenues
The prediction of revenues for rest of year (will they continue to decrease and at what rate?)
Actions being taken to stimulate revenues
Of course, there will be some companies that will report higher YoY revenues for Q2. These companies would include businesses that are able to thrive during the pandemic such as communications, home entertainment, consumer products, and shipping companies.
Profits
The second factor to pay attention to is profit. This is a more complex and an interesting topic. Business Acumen teaches us that profit is equal to revenue less expenses. We just discussed revenues (probably down significantly) so profit is then going to be a result of the management of expenses. Companies that wanted to preserve cash and profit started cutting expenses as soon as the pandemic hit. Some expenses are fixed, but in most businesses the largest expense is salaries and so by cutting and furloughing employees. people expenses were slashed, and profit was saved. But at what long-term expense? Some companies will report decent profit levels because they cut people and some companies will report horrific profit because they didn't. I spoke with one of my favorite Chief Human Resources Officers who told me that her company chose a very explicit strategy of not cutting people so they could retain them for the long term and to demonstrate real and true caring for their talent.
What to listen for:
Volatility of profit (how much as it up or down versus last year and last quarter)
Discussions on how much was cut from expenses particularly salaries
Estimated profits (could be called earning or earnings per share) for next quarter and rest of year
Operating Expense Budgets and Capital Spending
The most important thing to listen for is guidance and commentary on continued spending on operations and capital spending on the business. Operating expenses are things like Marketing, Sales, and R&D. Capital Spending are investments in things like equipment, new buildings, and factory expansion.
What to listen for:
The primary aspect that you want to listen for and understand is the organization's position on spending. What you hear will answer one question; is the company going to continue to aggressively invest in executing the strategy or is it going to cut back and fight another day.
Most likely, operating expenses will be frozen (best case scenario) and you will hear about cuts. Listen for words like
"Rightsizing,"
"Balancing of expenses"
"Smoothing of the investment programs"
In summary, the next few weeks are going to be ugly from a business metrics reporting perspective. Most of the earning calls will detail significant drops in the key metrics that matter and it will be important to be able to decode the earnings calls with some solid foundational business acumen.
Have a safe and restful weekend!