Understanding the essential levers to pull
The second half of 2020 will be challenging, volatile, exciting, exhausting, and any other similar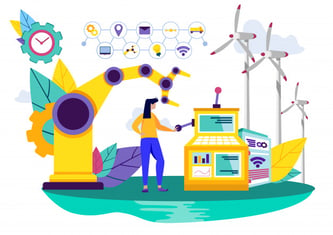 adjective you can think of. From a business perspective, executives, leaders, and individual contributors will be faced with unprecedented situations and scenarios that will limit their ability to achieve or fail to reach their 2H targets.
And it will all be serious business as the poor economic reports and business results continue to pile up over the next few weeks and into August.
Meanwhile, those targets don't go away. The good news is that those targets can be achieved through hard work, smart work, and by having the right Business Acumen skills to pull the right levers that will lead to success.
"Pulling the Right Levers"
You've probably heard the saying before in different contexts. It comes from the industrial age where new, innovative heavy manufacturing equipment was used to create scale and volume of production never seen before. A lever was part of a machine consisting of a rigid bar pivoted on a fixed point and used to transmit force throughout the system of the machine to optimize production. Today's business organizations are similar in nature and the key metrics of success (also known as the business goals) include:
Revenue
Profit
Cash
Shareholder Value
Return on Invested Capital
The question faced by the executives, leaders, and individual contributors is which levers to pull in the system of the business to drive the optimal results.
Business Simulations Teach Everyone in the Business Which Levers to Pull
A virtually delivered digital business simulation is a part of a scalable learning experience that builds capabilities in the areas of strategic thinking, financial management, metrics of performance, marketing, sales, and supply chain management. Learners, working in small teams take control of a simulated company and make the operating decisions necessary to execute the business strategy. Learners typically run a simulated company for at least 3 simulated years so they can see the tradeoffs between their short- and their long-term decisions.
The Levers of Success
So, what are the 3-4 key levers to pull for each of the 5 key metrics? The answer is actually not as easy as just listing them. The answer is that it depends on the strategy and value proposition the business is offering its customers. The biggest mistake most companies make is that they are pulling the wrong levers to get to the results they want but end up never achieving success. For example, an innovative product leadership company like Tesla could easily cut costs to make more profit. But that's the wrong lever. The right lever is to invest more money into R&D so sell more cars which in turn will generate more profit.
If your company is trying to be the best, most innovative company in its' market, then here is the recipe for successfully pulling the right levers:
Revenue – Raise prices, increase R&D to sell more higher priced products
Profit – Keep expenses growing at a rate lower than the increases of your revenue growth. Raise prices, sell more product through better marketing and sales.
Cash – Raise prices, keep investment increases into the business at a rate lower than revenue increases.
Shareholder Value – Increase revenue growth, increase profit growth, give cash back to shareholders instead of wasting it on incremental investments.
Return on Invested Capital – Use only cash that has lower interest rates on capital investments, keep your WACC as low as possible by borrowing at low interest rates, pay off high notes, generate increased profitability.
In summary, everyone in the organization from the executives to the new hires should have a foundational level of business acumen so they know who to pull or support the pulling of the right levers that will drive the desired goals and targets.